Hoop Vision Weekly: It's All Over! (National Championship Recap - 4/11/19)
A comprehensive video breakdown of the national champs + one key difference for UVA this year.
It's over.
Welp. That's it.
THANK YOU for a wonderful season of support. The praise has been greatly appreciated, and the criticism has been noted and just as greatly appreciated.

And although the confetti has fallen and "One Shining Moment" has played on loop for a few days,we're not done here at Hoop Vision; we're not going anywhere.

After a few days of rest, we'll be back for an offseason full of college hoops coverage and insight you can't find anywhere else.

A few things to expect in the offseason:
The plan is to keep this newsletter on a weekly cadence. It will likely look/feel different in the coming months, but expect something from Hoop Vision to continue making its way to your inbox each week.

The Solving Basketball podcast will continue to be released on a semi-regular cadence (but no hard schedule like there was during the season); expect it to be more reminiscent of the preseason and early-season episodes where guests came on to talk a bit more about philosophy, and less about specific games, teams, and storylines of the season.

Content topics will vary a bit; as we move away from the blur of daily games, we'll have some time to dig deeper into things and examine more ideas and topics in the college hoops world.

Coming soon -- look for a deeper dive on transfers and graduate transfers.

Be on the lookout for a few announcements — in this newsletter and on Twitter — about future products and enhancements to Hoop Vision as a whole.
Exciting times...onward!
In this issue, we put a bow on the weekend in Minneapolis, as Virginia pieced together a legendary — and at times, improbable — run to the title.

This email includes the most comprehensive video breakdown you'll find on the UVA season, plus a look at one key difference in this year's Virginia team (hint: we can't prove that it was because they were the most-covered team on Hoop Vision,but I challenge anyone to DISPROVE that).

Here we go...
---
In this issue...
ICYMI: Best of Hoop Vision

UVA — National Championship Overview

Video: How Virginia Won A National Championship

Text: Same System, More Boards, National Title

Hoop Vision Trivia
---
LOOKING BACK
THE STUFF YOU MISSED WHILE PASSING ON THE EASY LAY-UP TO FIND A TEAMMATE FOR THE CORNER THREE
BEFORE THE TITLE GAME
COACHING CHART: Which coaches (in the KenPom era) have overperformed relative to their program's average when it comes to efficiency margin? Tony Bennett and Chris Beard both stand out, as they've taken relatively dormant programs to new heights in the past few seasons (link to OG tweet):
FAST FACTS: When looking at the average pace in tourney games by Final Four teams (below), one thing is abundantly clear: Virginia entered as THE SLOWEST Final Four team in recent history (image links to original tweet).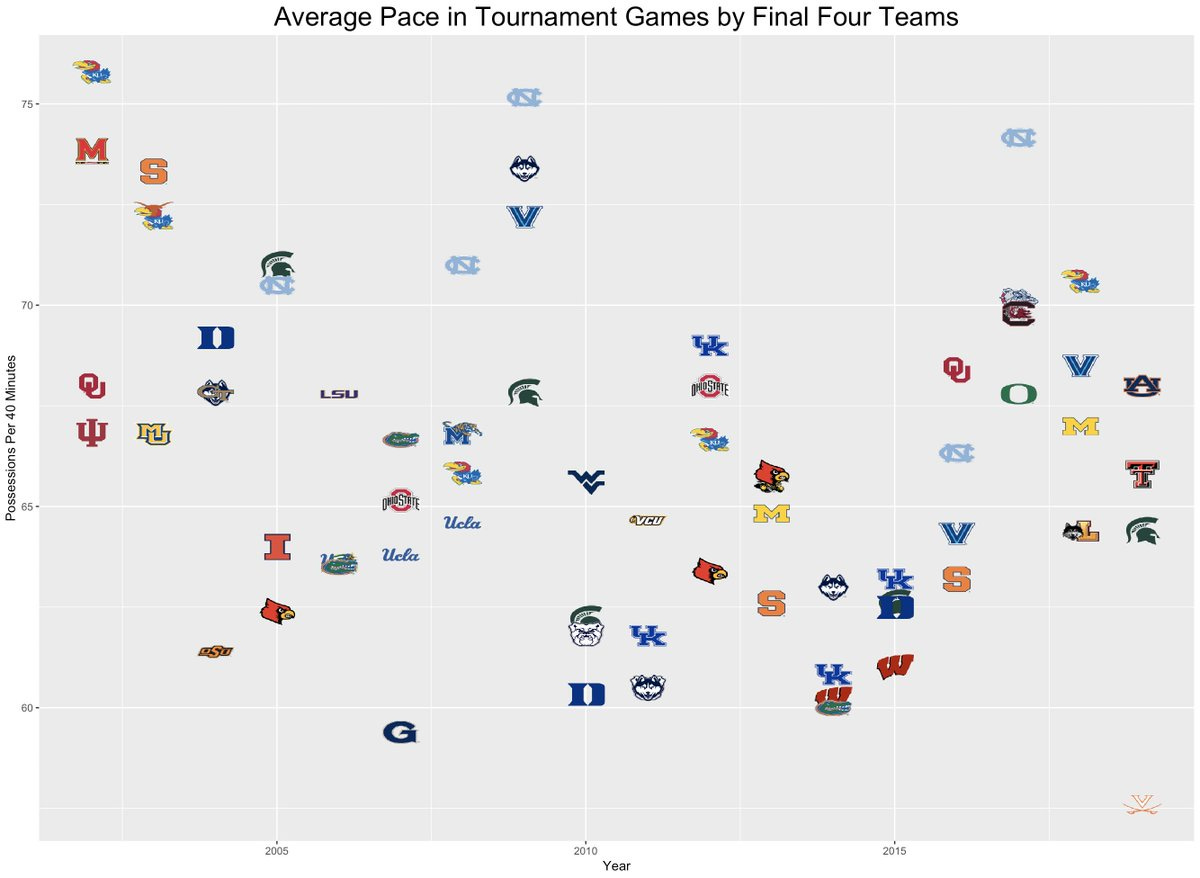 PREGAME SCOUT THREAD: The longest pre-game thread of the season for, well, the biggest game of the season. Did things turn out as planned?



Don't feel like reading a whole thread about a game that happened days ago? Check out the key points below - tap and zoom in if you need!
———
POSTGAME

VIDEO: The evolution of Virginia's offense from a solely Blocker-Mover offense to a more dynamic attack came to its apex on Monday night, when the Cavaliers went five straight possessions into a spread ball screen for Ty Jerome to force overtime.

(More details on the season-long evolution in the comprehensive video in the next section)

VIDEO: Virginia made one noticeable adjustment coming out in the second half: lifting the offensive player being guarded by the lowest man as a baseline drive happened...the same as one other team earlier this year.

HOW VIRGINIA WON A NATIONAL CHAMPIONSHIP
One of the most comprehensive Hoop Vision longform videos of the entire season, below is a 21-minute complete breakdown on our most-covered team of the season.

Grab your popcorn and your whiteboard and enjoy a deep dive on one of the most impressive, consistent seasons in college basketball history:
---
[ROUNDUP EXCLUSIVE]
QUANTIFYING THE CLICHÉS
Matt Giles (Twitter: @HudsonGiles) is back in the newsletter again this week, pointing out a specific aspect of Virginia's tournament run that many have overlooked.
— — — — — —
There is little on paper to distinguish the 2017-18 Virginia Cavaliers from the squad that cut down the nets in Minneapolis on Monday night.Sure, a few players graduated, but the squad's minutes continuity rate ranked fifth in the ACC this season — for the most part, not much changed. How, then, can we wrap our collective minds around UVA's transformation from a team that suffered a historic loss to 16-seed UMBC to a group that won an NCAA title? You've surely read at least a half-dozen takes on this exact question, most of which are rife with cliché and talk of motivational tactics and a little bit more "toughness" this time around.All that is well and good, but in this space we like to step away from the traditional takes and dive into what actually happened on the floor, and what the data and film tells us that a press conference cannot.As Jordan has previously documented, Virginia's offensive philosophy fluctuated throughout the season, from varying levels of reliance on the traditional blocker-mover to ball screen continuity — and one fascinating end result was the Cavaliers' ability to generate more shot attempts this season as compared to the 2017-18 squad.ESPN's John Gasaway conceptualized shot volume index, or SVI, as a way to demonstrate how many shots a team takes over the course of 100 possessions (factoring in offensive rebounding rate and turnover rate). Anything above 100 signifies a healthy offense, while an SVI in the low 90s is concerning. Entering the 2019 NCAA tournament, UVA's SVI ranked ninth in Division I (98.9), an uptick from last year's SVI (98.3).Through the Final Four, though, the team's SVI ballooned to 102.7 per 100 possessions, an absurd total considering Virginia was playing at its typically glacial pace of 59 possessions per game. And while the SVI cooled off in the Final Four (96, which doesn't include overtime in the title game and a dip largely attributed to the team's lineup restructuring), it's worth noting the slight tweak that enabled this year's squad to roll through the first two weekends en route to its first national title in program history.During its first four tournament games, UVA grabbed 35.5-percent of its misses, a shockingly high figure for a Tony Bennett-coached squad. Even their season-long offensive rebounding rate — 30-percent on the dot — was higher than seven of Bennett's previous ten UVA squads, largely thanks to the offensive ability of Mamadi Diakite and Jack Salt; Bennett could utilize both bigs within the team's offense, as the two bigs were far from hindrances on that side of the ball.That offensive rebounding boost, in turn, boosted the SVI; pair that with this squad's already-ruthlessly efficient offense (1.12 PPP through the regional final), and this year's Virginia team found themselves in rarified March air.UVA's pace is a constant, but the team's enhanced SVI surely contributed to an increased level of variance on their way to (finally) ruling March.And hey, maybe those chips on their shoulders helped out with a rebound or two....
---
HOOP VISION TRIVIA
In this space, we'll toss out a trivia question related to some analysis that has appeared on the Twitter account and/or newsletter in recent weeks.
Q: In November, a Solving Basketball podcast episode (with Gibson Pyper) featured a "coaches draft" of NCAA D-I coaches. Which of the coaches "drafted" in that episode stepped into a new job this week?

Last week's question: Two teams since 2010 have won their first two NCAA Tournament games by a combined 50+ points. One was this year's Gonzaga Bulldogs. Name the other team.

Last week's answer: This question was presented in a misleading way by a sleep-deprived individual. So rather than one answer, there were six potential answers — seven teams have actually done this since 2010 in total — and you all ACED IT. Never again will a trivia question be presented on lack of sleep.

Reply directly with your answer (or tweet it to @HoopVision68) to be entered into the next trivia contest.