Discover more from Hoop Vision
Basketball, smarter. Analytics, X's and O's, and Insider Access from the world of college hoops.
Over 10,000 subscribers
Hoop Vision Weekly: Visualizing Offensive Scheme (6/23/19)
A look at the most unique offensive schemes in the country
It was a relatively busy week of Hoop Vision content - at least for the offseason. That was thanks to both the retirement of Bill Carmody and the NBA Draft.
We'll get you caught up on what you might have missed, and then dive into a newsletter exclusive at the end.
We started the week with a coaching graph of post-up frequency. The graph details the top 30 coaches in KenPom's adjusted offensive efficiency over the last 10 seasons.
The demise of the post-up is fairly exaggerated - at least at the Division 1 level. This is particularly true for the elites of the sport. Kentucky, North Carolina, and Kansas all look to pound the ball inside.
It's certainly possible that future young big men currently moving up the youth basketball ranks with perimeter skills (and limited back-to-basket skills) may fundamentally change college basketball in the future, but the data doesn't support the idea that the coaches will drive that change on their own.
---
Another (Princeton Offense) Bites the Dust
Holy Cross head coach Bill Carmody retired this week. Not only was he a head coach at Princeton from 1996 to 2000, but he was an assistant for Pete Carril himself.
Carmody was probably the most glaring omission from the 32-minute Princeton offense extravaganza back in January (which featured, among others, Carril and a couple former players turned coaches in Mitch Henderson and Sydney Johnson). So it's only fitting Carmody got his own mini-thread this week.
Carmody's offensive style of play also inspired some of the work you'll find at the end of this newsletter. More on that in a bit.
---
The X's and O's of the NBA Draft
We also did a thread for the entire draft lottery (+1), highlighting some scouting related theme for each player.
You can find the entire thread - starting with the intro tweet - here:
And my personal favorites included:
---
Visualizing Offensive Scheme
The retirement of Carmody had me looking at his team's play type data. And this probably isn't much of a surprise given his Princeton background, but Holy Cross used "cuts" more than any team in the country last season.
Before we get to the visualization, let's quickly define terms. There's definitely some overlap between cuts and off-ball screens, but the the distinction tends to be where the player is headed.
A pin down for a player running away from the basket is going to be classified as an off-ball screening play.
A UCLA backscreen for a player running towards the basket is going to be classified as a cutting play.
Those two classifications make up two axes below: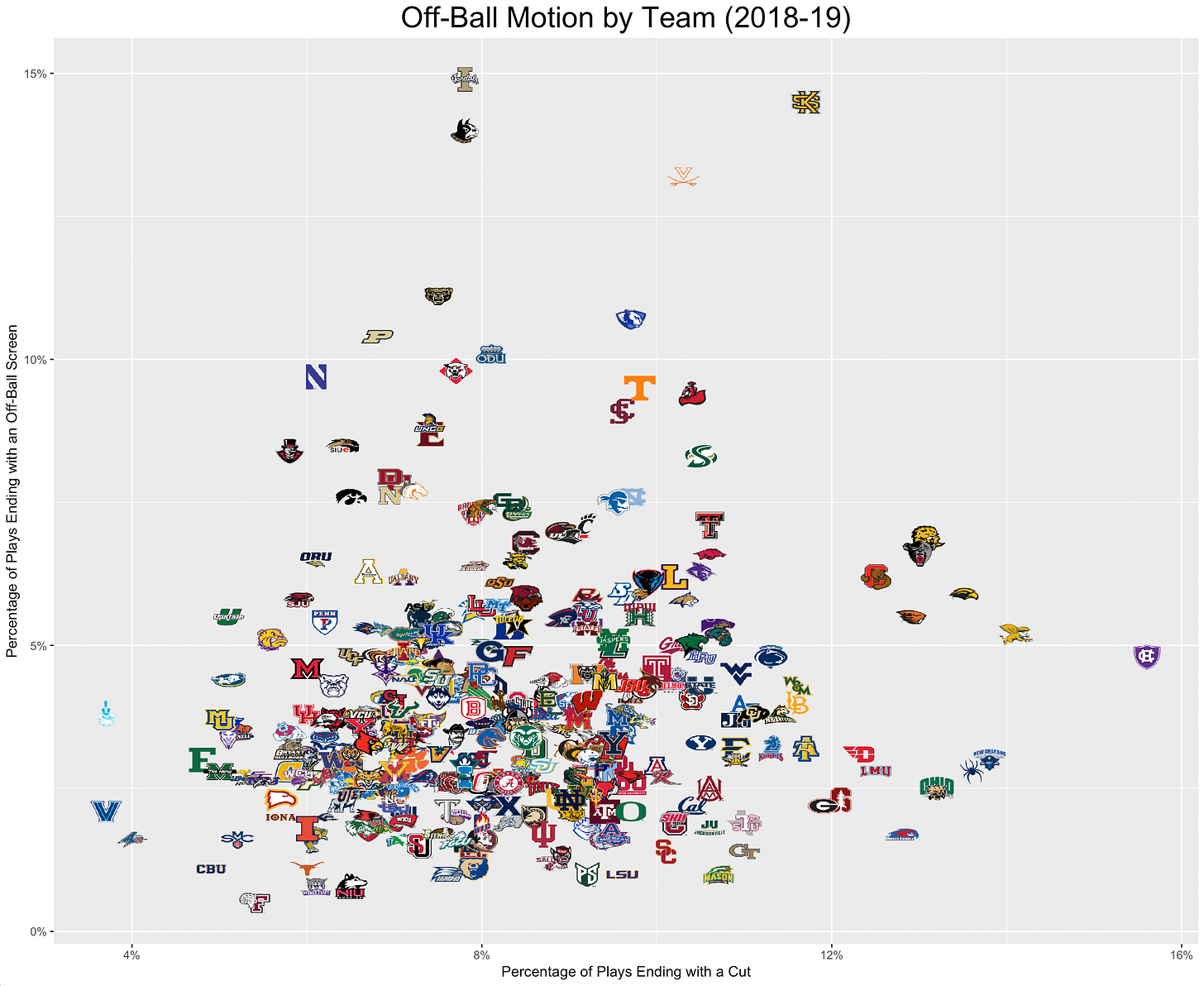 Let's dive into the extremes on the graph.
The Princeton-style teams (right)
First, we see Holy Cross all the way on the right as the most cut-happy team in the country. Richmond, another fairly pure Princeton team, ranks 4th. Air Force is a little farther to the left at #28.
Those Princeton teams are who we would expect to see, but there's one team that is a surprise - at least to me: Canisius.
Canisius runs Continuity Ball Screen offense. You wouldn't expect a ball screen oriented team to be far to the right (or the top) on this graphic, but there are a couple why Canisius violates that rule.
They run off-ball screening wrinkles within their Continuity Ball Screen (see tweet below)

They don't look to probe off of ball screens. A lot of times they won't even dribble at all - instead just throwing it ahead to the second side

They do run some non-CBS sets in addition to their primary offense
Reggie Witherspoon's offense is somehow both incredibly unique and incredibly common at the same time. On the one hand, he employs what I've called "the most run play in college basketball". On the other, he's teaching it a lot differently than others.
The motion-style teams (top)
For off-ball screening, four teams separated themselves from the pack: Idaho, Kennesaw State, Wofford, and Virginia.
We haven't had any Idaho coverage to date, but the three others certainly aren't surprises.
Virginia's Blocker-Mover featured pin downs and flares for Kyle Guy and Ty Jerome.
Kennesaw's tight flex offense won Al Skinner a lot of games in his career, but was questionable in 2019 given the current state of the game.
Wofford's offense featured maybe the best shooter on-the-move in NCAA history.
The "space-only" teams (bottom left)
Lastly, we have the group of teams in the bottom left of the graph. They don't rely on cutting or off-ball screening. These are the college basketball versions of the Houston Rockets - maximize great spacing at all costs.
Like all of the groups, it includes both efficient and inefficient teams. Villanova has set the standard in college basketball for offensive efficiency over the last several years by simply emphasizing spacing and three-point shooting.
But right next to them is 4-27 UNC Asheville. Again, off-ball movement isn't an inherently good or bad thing. It's highly dependent on how the offense as a whole is built to function.
Along with Villanova, Saint Mary's is the other program in contention for the "Houston Rockets of college basketball" distinction. The Gaels do have some Princeton influence (especially split cuts), but most of it is simply false action that leads to great spacing for either a ball screen or post-up.
Of course without James Harden, there's no team quite as isolation heavy in college basketball - so the comparison's not perfect. But ball screens and post-ups have proven to be equally effective for creating advantages for Villanova and Saint Mary's. And from there the great spacing and ball movement converts that advantage.
---
FEEDBACK? SUGGESTIONS?
Part of the goal of launching this newsletter is to gather feedback from you. We'll hope to engage this community in the occasional poll, contest, or something else along those lines.
If you have any feedback on what you'd like to see from this, any general thoughts on the Twitter/YouTube/Podcast coverage...or anything really, please fill out THIS FORM.