Let the REAL games begin (HV Weekly: 12/6/2019)
December is here. So is (potentially) the deepest weekend slate of the season.
Welcome back to the Hoop Vision Weekly!
(Or if you're new around these parts, welcome aboard!)
We're exactly one month into the 2019-20 college basketball season, and it's been quite a month…but we haven't really seen anything yet.
Last weekend's top games were in Jamaica, Hawaii, Florida, and other exotic, beachy locations with weather in the 80s. But now it's December; this weekend's top games include showdowns in unseasonably warm Ann Arbor (high of 39), Columbus (high of 40), Ames (47), and balmy Lawrence (high of 53 - bring out the swim trunks!)
Tropical season is over; say goodbye to the soft rims and 94-foot walks on the beach; say hello to hard fouls and B-roll of snowy campuses.
With early league games in the Big Ten and ACC to go along with some saucy pre-exams non-conference action, this is the deepest weekend slate of the young season. While we don't have any clear, marquee Top 5 matchup type games, this slate could go down as the most compelling of the year. More on that below in the weekend preview section.
Lots of exciting stuff happening at Hoop Vision HQ in the next two weeks. Stay tuned for a few announcements and a NET deep dive once the initial rankings are released.
Happy Friday. Glad you're here. Let's go!
———
If you're enjoying the ad-free Hoop Vision Weekly and the comprehensive coverage that we're bringing to you on other platforms throughout the season, please consider supporting Hoop Vision Plus, our premium subscription newsletter+audio+video product, new for the 2020 season (just tap/click the lovely button below).
Join coaches from every Division I conference and fans of teams across the country in subscribing to Hoop Vision Plus. Your support goes a LONG way and is highly appreciated.
---
LOOKING AHEAD
(*Reminder: Team rankings and score projections via KenPom.com)
27 games between teams ranked in the KenPom Top 100

17 games between teams in Top 68

11 games between Top 48 teams

4 games between Top 32
The fun ones
Highest-ranked matchups…
HM vs. HM: Penn State (#23) at Ohio State (#2)
HM vs. MM: Arkansas (#29) at Western Kentucky (#94)
MM+ vs. MM+: Dayton (#22) vs. Saint Mary's (#42) — in Phoenix
Biggest Projected Blowout…
LSU 91, Northwestern State 61
Projected Highest-Scoring Game…
Central Michigan 90, Tennessee-Martin 77
Projected Lowest-Scoring Game(s)…
Navy 59, Marist 50
High-Major TRUE road games (excl. in-conference games):
Depending on your definition of "high-major" there are 16(!) of these this weekend — excluding the Big Ten and ACC league games. So let's highlight the top two (non-league) true road games of each night, plus two Saturday bonuses:
Providence at Rhode Island, Fri 7pm ET

USC at TCU, Fri 9pm ET

Florida at Butler, Sat 12pm ET

Arizona at Baylor, Sat 12pm ET

Cincinnati at Xavier, Sat 5pm ET

Colorado at Kansas, Sat 7pm ET

Gonzaga at Washington, Sun 7pm ET

Seton Hall at Iowa State, Sun 9pm ET
——
Game To Watch
#24 North Carolina at #10 Virginia




Sunday 4pm ET (ACC Network)
Sunday's matchup between North Carolina and Virginia feature two teams that have really struggled to shoot the ball to start the season. UNC ranks 258th in three-point percentage and 286th in two-point percentage. UVA currently ranks 347th in three-point percentage and 128th in two-point percentage.
Yes, you're reading that right. The programs which have won two of the last three national championships are near-bottom nationally in shooting percentage.
While the final results of UNC and UVA possessions have been similar this season, the general philosophies to arrive at that results are almost entirely different — particularly in the first 10 seconds of the shot clock.
On one hand, you have a school synonymous with transition basketball. The Tar Heels' system — created by Dean Smith and tightly adhered to by Roy Williams — is quite literally referred to as the Carolina Break.
On the other bench, you have a coach that nearly punts transition opportunities altogether. Virginia can go an entire half without looking to push the ball at all.
The graph below plots transition usage and efficiency for every team since Tony Bennett's first season at Virginia. The UVA and UNC points are highlighted in their respective colors.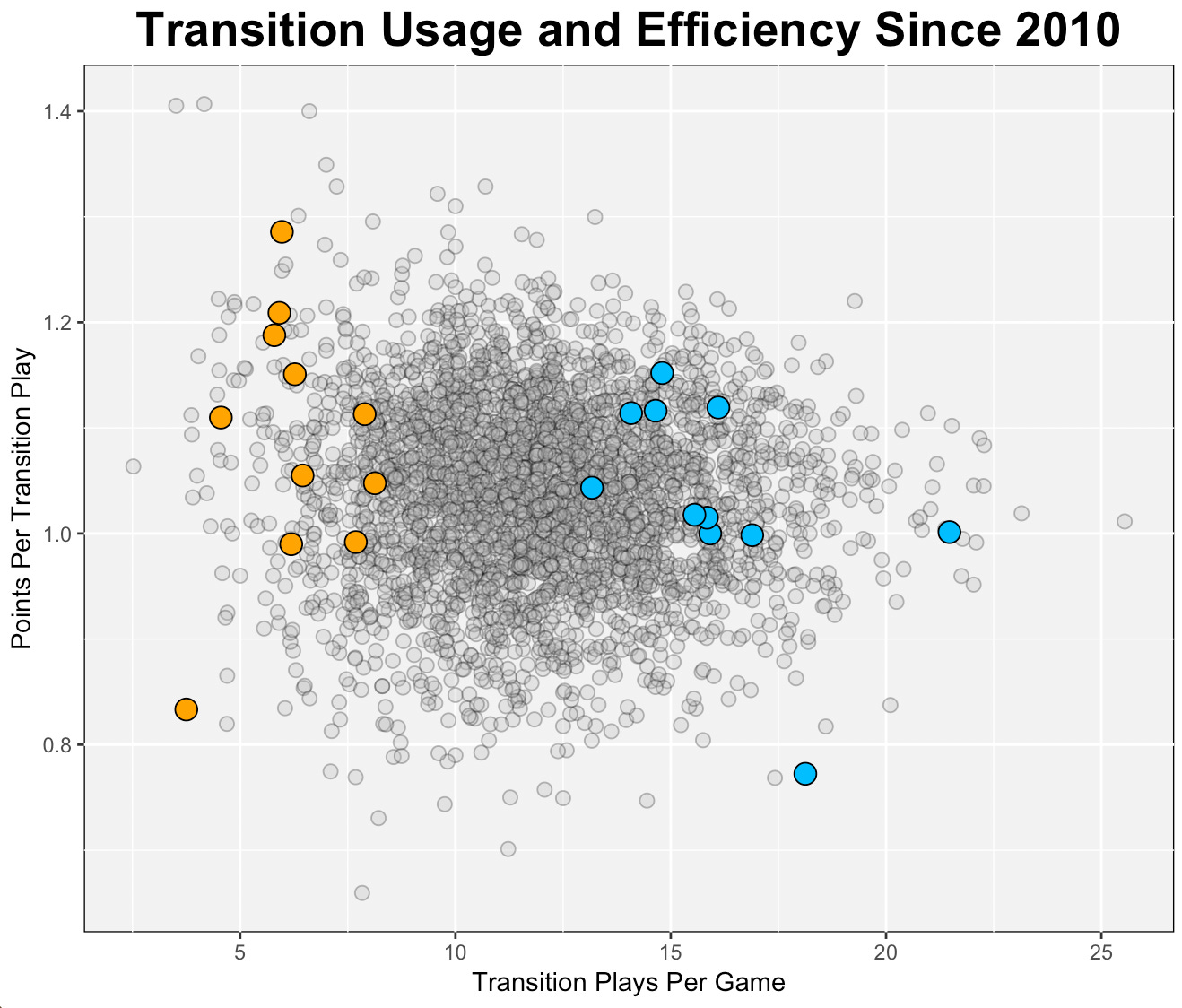 Since 2010, every Roy Williams team has averaged more transition plays per game than the NCAA average — and every Tony Bennett team has averaged less transition plays per game than the NCAA average.
You can see from the graph that there are two points — one for Carolina and one for Virginia — which stand out for low efficiency. Both of those low-efficiency outlier points represent the current 2019-2020 season.
Both teams will likely improve with a larger sample size and some regression to the mean. But if the season ended today, these would be historically unique transition offenses — and not in a good way.
Film Room:
— The Pros and Cons of Virginia's Blocker-Mover Offense
— How the 2018-19 UNC Tar Heels Ran the "Carolina Break"
KenPom Prediction: Virginia 61, North Carolina 55
(69% UVA win probability)
---
LOOKING BACK
THE STUFF YOU MISSED WHILE TRYING TO FIND WHERE YOU STORED YOUR WINTER COAT
We're onto December, so let's briefly look back at November.
The best win of each day, all month: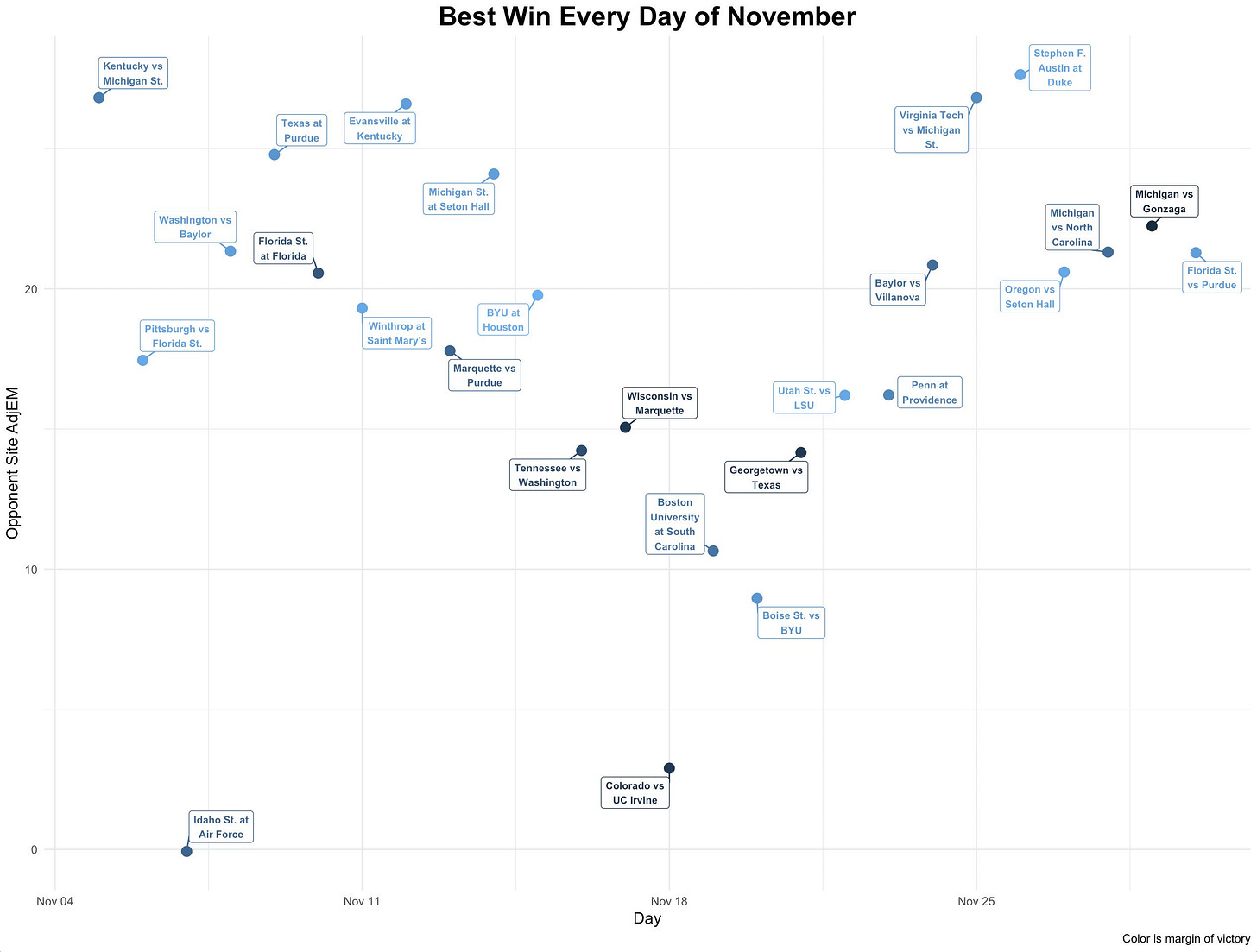 And if we look back on Month 1 of the season, let's look at the teams who have made the biggest jumps (and those who've experienced the biggest falls) since the season tipped. And while preseason projections should never be considered ironclad, we can look back at the KenPom rankings from Day 1 to now to gauge early-season performance…
Biggest Overall Jumps (by rank)
Delaware (+105; #256 -> #152)

Stephen F. Austin (+99; #299 -> #200)
Biggest Jumps — Within Current Top 68
San Diego State (+72; #97 -> #25)

Stanford (+36; #89 -> #53)
Biggest Overall Falls (by rank)
Illinois-Chicago (-105; #134 -> #239)

NJIT (-82; #140 -> #222)
Biggest Falls — From Preseason Top 68
Texas A&M (-77; #58 -> #135)

Providence (-28; #30 -> #58)
——
In other news, Solving Basketball returned this week with John Ezekowitz, who formerly did analytics work with the Phoenix Suns and has done extensive research on all things college basketball analytics. We went deep on his findings around the "hot hand" and heat checks, along with some data around NCAA Tournament upsets and deep tourney runs. (Apple // YouTube)
Tuesday night's Louisville vs. Michigan game was the main topic of the week for Hoop Vision, garnering the full spectrum of HV coverage. If you want to relive that showdown and compare the expectations versus the final results, here's the rundown:
The ever-popular pregame scouting thread made its triumphant return

An HV+ post breaking down the game and what played out is excerpted and linked below, in the next section
A few more X's and O's favorites from the week you may have missed:
This week, some past Hoop Vision work also got a bit of run within the college hoops media circuit — over at The Athletic, Ken Pomeroy wrote a story inspired by our viral "Play Fast" video from introductory press conferences, where he judged which coaches have lived up to their promises — and which haven't — around pushing the pace in Season 1 in a new job.
Speaking of pace/tempo, a graph that caught a lot of folks' eyes from yesterday:
And then from a more team-specific angle, Jesse Newell of the Kansas City Star — one of the most savvy X's and O's beat writers in the country — wrote a really strong, comprehensive breakdown of Kansas' win over Dayton in Maui, complete with videos and all. Worth a read even if you're not a KU fan — and particularly if the Jayhawks are on your schedule over the next few months.
And if you've ever wondered what Jordan does all day, here's a little taste:
---
THIS WEEK ON HOOP VISION PLUS
We're in Year 1 of Hoop Vision PLUS; thank you for all the continued feedback and support along the way as we keep experimenting and building a cadence of content.
Subscribe to HV+ now! Just hit the button below and upgrade to the monthly or annual package:
For those who haven't yet signed onto our premium newsletter+video+audio product, or to those subscribers who lost track of this week's content in their inbox, here's your weekly HV+ rewind:
Tuesday night's Louisville vs. Michigan game got the full Hoop Vision treatment, with preview and recap scouting threads, podcasts (all linked above), and this postgame HV+ breakdown.
Michigan entered the game with one of the best ball screen offenses in the country — despite not really having a player that comes off a ball screen aggressively looking to call his own number.

Prior to the Louisville game, Michigan had directly used 192 ball screens. Of those 192, the ball handler kept the ball for his own shot on just 36% — the national average is 45%.

Just given the table above, it would seem to make sense for a defense to attempt to turn Simpson into a scorer. Michigan was scoring 0.96 points per ball screen when Simpson shoots the ball.

However, Louisville's strategy was much different. They hedged the ball screen — like they normally do in their base defense — and forced the ball out of Simpson's hands.

This type of coverage — turning Simpson into a passer — appears to go against the data. Yet Michigan was unable to capitalize for almost the entire night.
Every Monday, we feature a grab bag of five notes, actions, or other standout trends from the prior week of games. This week, observations on early-season "buy" games, three teams you may have watched last week, and one you almost certainly didn't…
This week's Starting Five Topics:
Virginia Tech's Side Roll-Replace

Michigan State's use of an inverted ball screen for Cassius Winston

Excerpted below

Stanford's continuity ball screen

More on "butt" screens, this time from Canadian powerhouse Carleton
#3 [Data Viz] The Epitome of Brutality

Above, you saw the Best Win Every Day of November. For today's Starting Five, we take a much more pessimistic approach to the same graph concept.

Here is the WORST loss every day of November. These include losses by high-majors only, so one might even call them theepitomeofbrutality.
If you're looking for the best college hoops viewing companion, stop looking: you've found Hoop Vision Plus.
Subscribe to HV+ for exclusive writing, video, and audio on the game within the game. Click/tap below for full access to HV+ content and community.
---
That's it for this week!
Were you forwarded this email by a friend, colleague or coach? If you enjoyed it and would like to receive original research, insider access, and strategic analysis of college basketball on a regular basis, please tap/click the button below to either share this post, or the one above to subscribe to Hoop Vision Weekly and/or Hoop Vision Plus.