Discover more from Hoop Vision
Basketball, smarter. Analytics, X's and O's, and Insider Access from the world of college hoops.
Over 10,000 subscribers
Leveling Up (HV Weekly: 5/1/2020)
Examining the performance of coaches who make the jump from mid-major programs to high-major head coaching jobs.
Welcome back to the Hoop Vision Weekly!
During an offseason in which the coaching carousel has been historically inactive, the Wake Forest opening came and went rather quickly, as the hiring of Steve Forbes was officially announced on Thursday.
The news cycle for Wake Forest was typical for a coaching hire. We had the nepotism angle with Wes Miller and Ryan Odom, and there was the "dream big" angle with John Beilein. Ultimately, Wake Forest hired the mid-major head coach who — within the industry — was largely perceived as the next in line for an ACC or SEC job.
The thing that stands out to me in college basketball hiring — not just at Wake Forest — is how arbitrary the process appears to be. We simply don't have reliable data to measure coaches.
At Hoop Vision Plus, we've looked at this topic in the past with a relatively simple formula, one that certainly has its weaknesses.
Coach Performance = (Season Adj. Efficiency) - (Program Average Adj. Efficiency)
The metric is nowhere near perfect — the HV+ article from October linked above explains the limitations — but it attempts to control for a coach's program strength and resources.
The Mid-Major to High-Major Transition
Using our Hoop Vision "Coach Performance" metric, we have a sample size to evaluate past coaching hires. Since 2000, there are 110 coaches who have made a mid-major to high-major jump similar to Steve Forbes.
The graph below plots Coach Performance prior to receiving the high-major job on the x-axis, while Coach Performance after being hired to the new job is on the y-axis.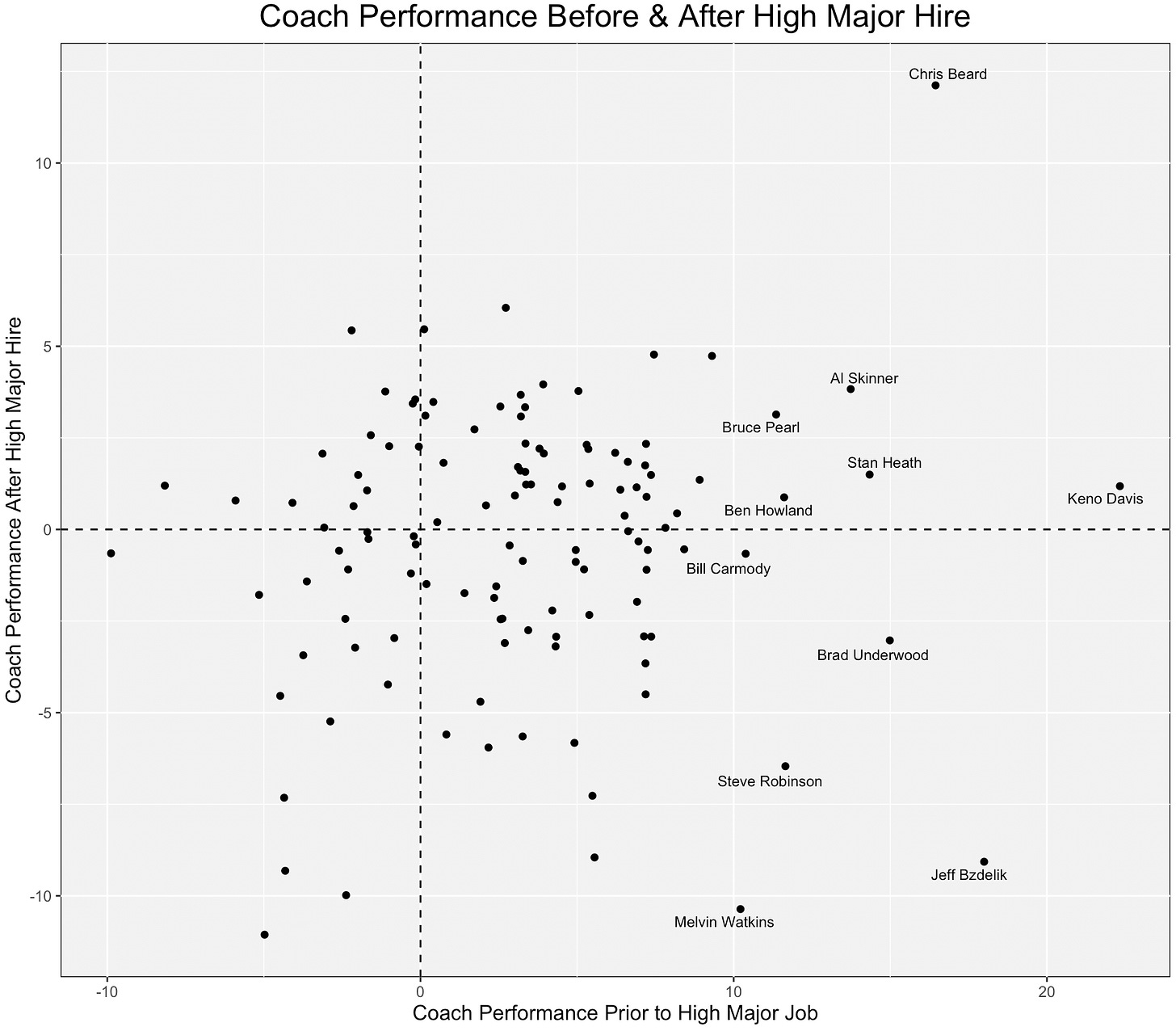 From an adjusted efficiency perspective, it's easy to make the argument that Chris Beard has had the best five-year run to start a career since the turn of century.
But what about the coaches on the other side of the spectrum? The points to the left of the dashed line represent coaches who underperformed at the mid-major level, but were still scooped up by a high-major.
Below, a list of those coaches who performed at least 3 points-per-100-possessions below program expectations.

Ironically, former Wake Forest head coach Danny Manning made this list. He took the Wake Forest job after a middling two seasons of efficiency at Tulsa — although he did make an NCAA tournament in year two.
Kevin Willard and Mark Turgeon are the two high-major success stories. Willard never finished within the top 100 in kenpom rankings at Iona, but just finished his tenth year at Seton Hall with what most consider his best team yet. Turgeon was solid at Wichita State, but Gregg Marshall elevated the program to another level. Still, Turgeon has performed slightly above average at his high-major stops.
"One-And-Done" Hires
In our sample, there are eight instances where a coach made the jump to high-major after just one season as a head coach at a mid-major. We already know that Chris Beard is one of them, but the rest are listed below.

Some of these coaches have seemingly been able to "jump the line" thanks to family ties (Scott Drew, Richard Pitino) or their alma mater (Matt Painter, LaVall Jordan), but this group of coaches has performed relatively well in their new digs.
Drew is an example of a coach likely being undervalued by our metric. He's built Baylor over a long period of time, to a degree where the metric almost penalizes him for his own success.
Regardless, these eight coaches — again, a small sample size — have mostly vindicated their athletic directors for pulling the trigger on one-and-done hires.
---
Links from the past week
This newsletter is entirely supported by its readers. Thank you for your support of Hoop Vision and allowing us to continue to grow.