Tourneys > Turkeys (HV Weekly: 11/22/2019)
Morning college hoops? NOW it feels like the season is back.
It's Friday, which means another edition of the Hoop Vision Weekly, fresh and toasty in your inbox.
If you're new here, welcome aboard! We're glad to have you; don't be afraid to say hello. If you've been with us for a while, the continued support is appreciated.
As always, for the full Hoop Vision experience, be sure to sign up for Hoop Vision Plus as the season (and our coverage) continues to ramp up:
We're getting into one of the most fun times of year for college hoops; there are intriguing neutral-court games on during breakfast, coaches are wearing Hawaiian shirts, and we start to really get a look at the contenders versus pretenders.
Let's get into it!
Happy Thanksgiving from the Hoop Vision family, particularly to those coaches, players and media members who will be traveling and away from loved ones during the holiday tournament season.
---
LOOKING AHEAD
(*Reminder: Team rankings and score projections via KenPom.com)
This weekend (Fri/Sat/Sun) - just to note, with in-season tournaments, many matchups are still to be determined, so these numbers will be going UP, in all likelihood:
12 games between teams ranked in the KenPom Top 100

5 games between teams in Top 68

1 game between Top 48 teams

ZERO!!! games between Top 32 (yet)
The fun ones
Highest-ranked matchups (scheduled thus far)…
HM vs. HM: Villanova (#10) vs. Mississippi State (#45) — at Charleston Classic
HM vs. MM: Houston (#35) at Oregon (#19)
MM/LM vs. MM/LM: Western Kentucky (#83) vs. Bowling Green (#101) — in Jamaica
High-Major TRUE road games (excl. in-conference games):
Ole Miss at Memphis, Sat 1pm ET

DePaul at Boston College, Sat 12pm ET
HM Road Notes: Only two true high-major road games this weekend with lots of tournaments on the schedule…another big road test for DePaul; last time the Blue Demons went on the road, they blew out Iowa in an early-season statement win.
Biggest Projected Blowout…
Seton Hall 85, Florida A&M 54
Projected Highest-Scoring Game…
FIU 84, Eastern Kentucky 77
Projected Lowest-Scoring Game(s)…
Virginia 66, UMass 49
——
Games To Watch
#3 Duke vs #62 Georgetown — in New York City


Friday 7pm ET (ESPN2)
It's tough to do an accurate weekend preview section this time of year with all the uncertainty and schedule upheaval that can come with in-season tournaments. So for this week, we'll focus on a pre-scheduled game, this matchup between two programs rich with history on a neutral floor (although it will almost certainly have a Duke-heavy crowd).
It's still early, but this year's Duke squad is looking like a vintage Coach K defense. The Blue Devils are turning teams over at a high rate (16th in TO%), taking away the three-point line (7th in 3PA/FGA), and protecting the rim (33rd in 2P%) — all important characteristics for their deny scheme.
This might wind up Duke's best defensive team in the one-and-done era, but the offense does still have some question marks. Right now the Blue Devils are living off offensive rebounds. If an opponent can hold Duke to one shot and clog the paint, they still have some of the same floor spacing issues as last season.
Georgetown is also a very strong rebounding team. Their 7-foot center Omer Yurtseven currently ranks number one in the country in offensive rebounding percentage. The offense relies on those second chance opportunities and free throws to overcome shooting issues similar to Duke.
Defense is probably the bigger question mark for Georgetown. The Hoyas looked shockingly good guarding Texas's spread ball screen offense in the second half last night, but that hasn't exactly been the norm in the Patrick Ewing era. Duke's a fairly heavy favorite in this one, but it will be interesting to see if Georgetown's hedge coverage against Texas is sustainable.
Film room: Georgetown hard hedge ball screen coverage against Texas
KenPom Prediction: Duke 81, Georgetown 70
(86% Duke win probability)
(Note: We will have a Big Game Pod breaking this one down afterwards.)
---
LOOKING BACK
THE STUFF YOU MISSED WHILE STUFFING A TURKEY
In not-so-shocking news, Virginia's defense is damn good, yet again. Thus far, they're defending the interior better than anyone else, and avoiding fouls while doing it: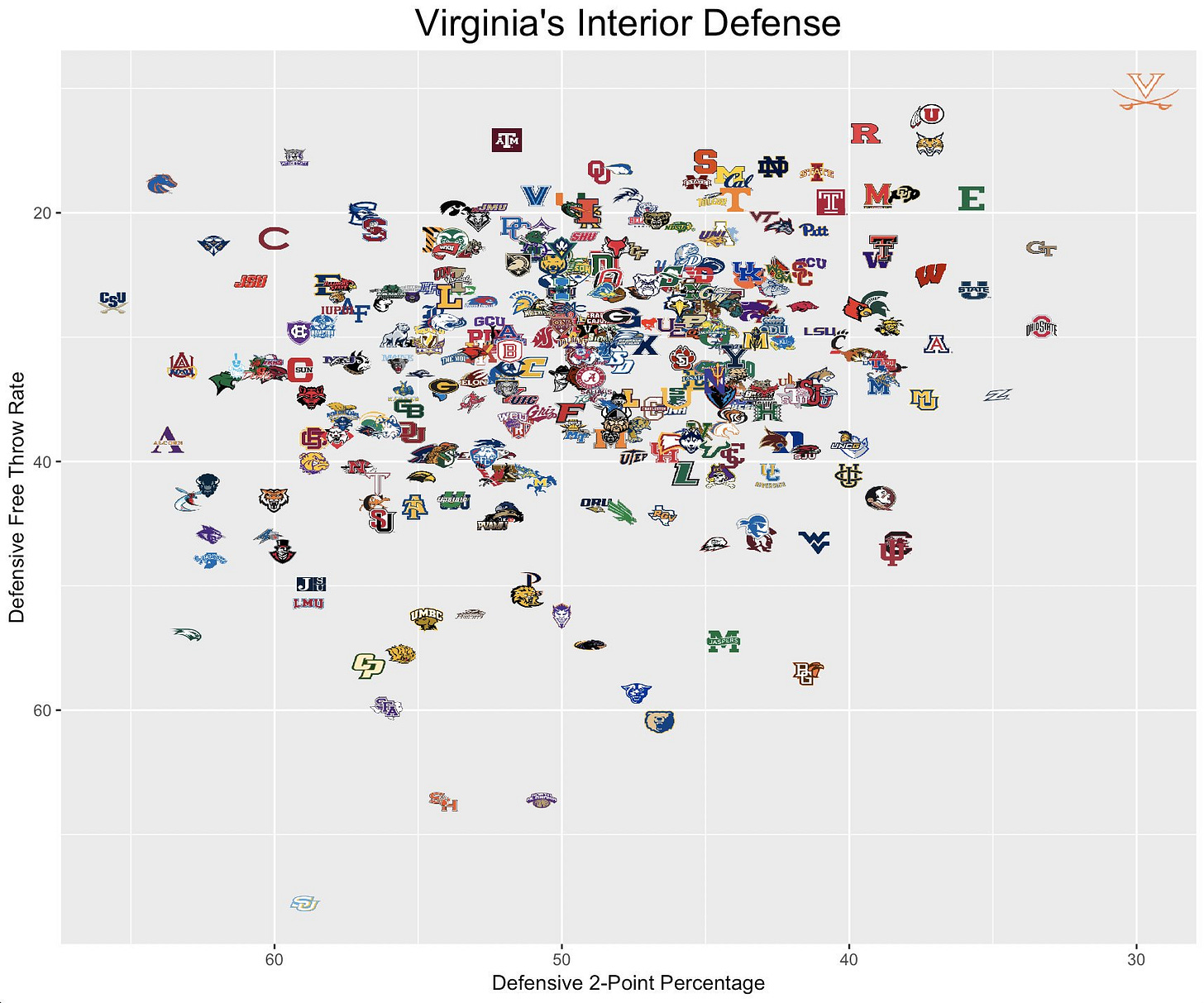 If you're looking for more Virginia — here's a 47-second video showing their spread ball screen playcalling in a win over Columbia.
As subtly linked in the Games To Watch section on Georgetown, we had a new Big Game Pod this week, featuring Georgetown vs. Texas (spoiler alert - Georgetown won big):
On the way to that 16-point win, Georgetown brought the defensive intensity:
X's and O's / videos:
THIS WEEK ON HOOP VISION PLUS
We're in Year 1 of Hoop Vision PLUS; thank you for all the continued feedback and support along the way as we keep experimenting and building a cadence of content.
Subscribe to HV+ now! Just hit the button below and upgrade to the monthly or annual package:
For those who haven't yet signed onto our premium newsletter+video+audio product, or to those subscribers who lost track of this week's content in their inbox, here's your weekly HV+ rewind:
After losing the key pieces from last year's ruthlessly effective offense, we take a look at how Gonzaga's offensive identity has shifted thus far in the 2019-20 season…
In 2019, Gonzaga used over 20 ball screens per game and scored 1.02 points per ball screen. The majority of those ball screens were with Josh Perkins as the primary creator.

Ball screens used per game in 2018-19

Josh Perkins… 11.2

Zach Norvell… 4.7

Geno Crandall… 2.8

Corey Kispert… 0.9

It's also important to credit the bigs — Rui Hachimura and Brandon Clarke — for some of the ball screen success. Clarke was as good of a roller to the rim as any big in the country. Hachimura could either roll or pop at a high level. But Josh Perkins' overall ability to probe defenses and make the right read was the catalyst for the ball screen-heavy offense.

Through five games this season, Gonzaga is using 13 ball screens per game and scoring 0.93 points per ball screen. Additionally, the ball screen usage is much more equally dispersed compared to last season.

Ball screens used per game in 2019-20

Admon Gilder… 3.8

Ryan Woolridge… 3.6

Joel Ayayi… 3.4

Corey Kispert… 2.2

At its core, the offensive scheme is still the same as last season. Mark Few's offense — especially early in a possession — usually has a big man battling for position in the paint.

So when a guard looks to use a ball screen, the inside big ducks in to carve out space for the ball handler.
The Starting Five returns, with a focus on "butt screens" and the teams putting them to use early in the season…
#1 [X's and O's Concept] The Butt Screen

Last week, I noticed several teams using the "butt screen." If you are unfamiliar with that term, it means pretty much exactly what you would expect. Instead of the screener facing the ball handler (like on a normal ball screen), a butt screen is when the screener faces the basket.

Here you can see four teams setting four butt screens. The screener stays still at the top of the key while the handler use the screen to attempt to get towards the basket early in the possession.

All four of these teams (Davidson, Louisville, Tennessee, and USC) use the butt screen as part of their secondary break.

The perimeter big (trailer) stations himself in the middle of the court.

The lead big (rim runner) sprints to the basket for a potential post touch

The two wings run wide — all they way to the corners

This spacing is a little different from the traditional Carolina Break spacing…
If you're looking for an early holiday gift for a loved one, a colleague, or yourself, stop looking: you've found Hoop Vision Plus.
Subscribe to HV+ for exclusive writing, video, and audio on the game within the game. Click/tap below and all your wildest dreams will come true:
---
That's it for this week!
Were you forwarded this email by a friend, colleague or coach? If you enjoyed it and would like to receive original research, insider access, and strategic analysis of college basketball on a regular basis, please tap/click the button below to either share this post, or the one above to subscribe to Hoop Vision Weekly and/or Hoop Vision Plus.