A Look Inside (HV Weekly: 7/19/2020)
A detailed look at how Hoop Vision began, and where we go from here.
As we get into the dog days of summer, today's newsletter will be a bit different than the typical Weekly edition. Today, I'll be going into detail about the mission/goal of Hoop Vision, how we started and how we've grown this thing — and then where we go from here.
It's been almost two years since the launch of Hoop Vision and almost nine months since the launch of our premium subscription product, Hoop Vision PLUS.
In recent months, economic circumstances have accelerated the sports media industry's push in the direction of independent and subscription-based models. Now more than ever, writers can be funded directly by their audience — foregoing the need for advertising dollars and the support/structure of a larger media organization.
To make a livable wage off of advertising-only model, a writer needs to grow a large audience — more eyeballs to see the ads. This sets up less-than-ideal business incentives for the writer (or company) to prioritize clicks and spend significant time trying to optimize headlines and distribution tactics across social platforms.
With a subscription model, a writer can — in theory — shift the incentives, and focus on producing more specific high-quality work for a focused, feverish audience.
A niche sport like college basketball, in some ways, appears like the archetype for a subscription model. Without the broad appeal of the NBA, college basketball brings in a fraction of the views and coverage. But if you cover the sport in a unique way — there is less competition for coverage than the NBA — the diehard fans may value it highly enough to pay.
———
These are the types of Hoop Vision business discussions that we (shout-out Edgar Walker and Rafi Goldman) have agonized over for the past two years.
While I didn't realize it early on, Hoop Vision has become a test case for a modern independent media outlet. It's a model that combines entrepreneurship, content creation, and consulting.
The appetite for advanced basketball analysis
After three years of working for college basketball teams as an analytics and video staffer, I felt uniquely positioned to fill a niche in the college basketball community. The Hoop Vision value proposition had three main prongs:
Knowledge of analytics

Knowledge of X's & O's and scouting

An insider's perspective of working for a team
Content-wise, I had a plan. In the most basic terms, I was going to…
…launch a guest-oriented podcast to talk about the esoteric details of the college basketball industry.

…make videos that mirrored the coaching and scouting discussions from my experience working for teams.

…use Twitter to push real-time — or nearly real-time — analysis of in-game X's and O's, primarily around marquee teams and games.
(and all of it was going to be grounded in data and analytics.)
Business wise, I did not have the same level of clarity. College basketball fandom tends to be very team-specific. Kentucky fans, I figured, want Kentucky coverage. I figured North Carolina fans have next-to-zero desire to see coverage of Texas Tech's no-middle defense.
I had real doubts about attempting to cover the sport from a national lens. In fact, here's an email I sent to three national media figures, just months before the Hoop Vision launch.

In addition to college basketball fans, Hoop Vision quickly started drawing a second audience: Coaches.
In particular, Division 1 coaches became a main consumer — and in many cases, the audience included the exact coaches whose teams we were covering. But the coaching industry is even broader than that, with high school, youth, and aspiring coaches all interested in the college game as well.
The coaching segment was consuming Hoop Vision content from a more professional lens — be it career development or education, and even sometimes in scouting prep for opponents.
The fan segment had different motives. A particular tweet — in response to a thread analyzing Texas Tech's defense — stood out to me as a reinforcement of the mission statement for Hoop Vision.
"Holy crap. I had no idea all these subtle moves were happening."
For the fan segment, the mission was to help them #WatchSmarter. Based on early feedback, we were succeeding in that goal. The question was if anyone would pay money for it.
Creating (not chasing) the news
Early on, I felt the need to chase the most popular topics, teams, and players. There was a Zion Williamson scouting breakdown and analysis of Kentucky's trip to the Bahamas. It seemed like that was the necessary focus to bring in views.
While of course there are benefits to covering the biggest names, Hoop Vision began to take off after fully embracing the esoteric. Following a successful first video on the Continuity Ball Screen offense, I tried to test just how nerdy and obscure we could get.
The next video — How the Princeton Offense Fits Into Today's Basketball — was almost a deliberate attempt to be unmarketable. I broke two cardinal rules, according to my initial vision:
It was 32 minutes long, even though my original plan was to keep videos to roughly five minutes or less.

It didn't include a high-profile team, even though my original plan was to focus on the blue bloods, in an attempt to cast a wide net.
The video was a success — particularly compared to where we were at the time — with 44,000 views and nearly unanimous positive feedback.
Because of the nature of the content, Hoop Vision had the power to create news. We didn't have to chase the hottest topics, we could create them.
Many times, Hoop Vision's original content — whether an article, tweet, or newsletter — has led to more traditional reporting from national outlets.
---
"If no one buys it, we just won't make it"
In February 2019, we had our initial Hoop Vision "Summit" event, as Edgar (San Francisco), Rafi (Boston) and I (Albany, NY) traveled to New York City and met up for a full day, finalizing the plans for the first paid Hoop Vision offering: The Hoop Vision NCAA Tournament Bible.
College basketball is a niche sport for 11.5 months out of the year, and then you have two weekends in March and a couple days in April.
To fill the demand for tournament analysis, we were going to create an e-book for all 68 teams — well, assuming anyone wanted it.
We spent that day in Edgar's cousins' apartment in the Upper West Side, planning out the marketing and sales process, figuring out the workflow, and coming up with a bunch of terrible ideas for what we should name the product.
(Editor's note: "Bible" was a term we tossed out as a joke and then we came up with nothing better…for all Hoop Vision's strengths, naming things is our biggest weakness.)
We spent most of the evening joking (but not really joking) that if no one bought the pre-order option, we simply wouldn't produce the e-book at all. Even as my Twitter account grew by the day, we were that unsure of demand.
Thus is life in a startup.
Long story short, the Tournament Bible was a success, at least relative to our expectations. On day one — about 10 days before Selection Sunday — we sold 155 copies. By the time the bracket was released, our pre-order sales had increased to 457. By tip-off for the Round of 64, our sales were at 893 and we continued to add incremental sales throughout the tournament.
(For version two of the Tournament Bible the following year, we were again skeptical if the demand would still be there in year two. We blew our total 2019 pre-order sales out of the water within three days, before the tournament was ultimately cancelled.)
We weren't exactly getting rich off the Tournament Bible, but it served as validation that Hoop Vision could make money — a proof of concept. Fans and coaches — even coaches participating in the tournament itself looking for a scouting edge — had chosen to spend money with us. That was 2019, and a system for recurring revenue was the natural next step.
---
The business funnel
Social media and the internet have helped made content creation more of a meritocracy. Quality sports analysis will, in most cases, rise to the top. But if there's one thing I've learned over the last two years, it's the importance of the business strategy side of things.
For Hoop Vision, customer acquisition generally starts with Twitter and YouTube. Those are the two platforms where the largest amount of people can see our content, whether it's tactical coverage of Baylor's defense or a silly-yet-startling video of coaches repeating the same exact words…over and over again.
Near the end of 2018, Edgar pitched me on writing a free weekly newsletter to funnel social media followers into a more intimate setting. He built the format and ghost-wrote the first few editions in December 2018 and January 2019. The list grew quickly, and while the next step wasn't entirely clear, building the email list allowed flexibility and opened up some opportunities.
Originally an aggregation of previously published content, the newsletter slowly became a spot for original research and coverage — and the audience followed. We more than doubled our email list in the 2019 offseason, even with no actual college basketball being played.
In October 2019, we launched the final step of the funnel — a paid newsletter (Hoop Vision PLUS) with subscriber-only content.
---
Growth versus conversion
Between subscribers/followers on Twitter, YouTube, and the podcast, there are about 40,000 people at the top of the Hoop Vision funnel. Of that group, only a certain percentage sign up for the free newsletter. And of that group, an even smaller percentage will convert to Hoop Vision PLUS.
Running an audience-funded media business fundamentally leaves you with a trade-off: Do you focus on top-of-funnel growth or paid conversion?
If I pour my time and effort into free tweets and videos, the top of the funnel grows and more people discover the brand and take a chance on our coverage. The latest video on BYU's offense, for example, brought in about 400 new YouTube subscribers.
But social media followers and subscribers are only as valuable as the rate at which they convert. That same time could be spent creating subscriber-only content for the bottom of the funnel.
Since the HV+ launch in October, here's a look at the growth of our paid subscriber base: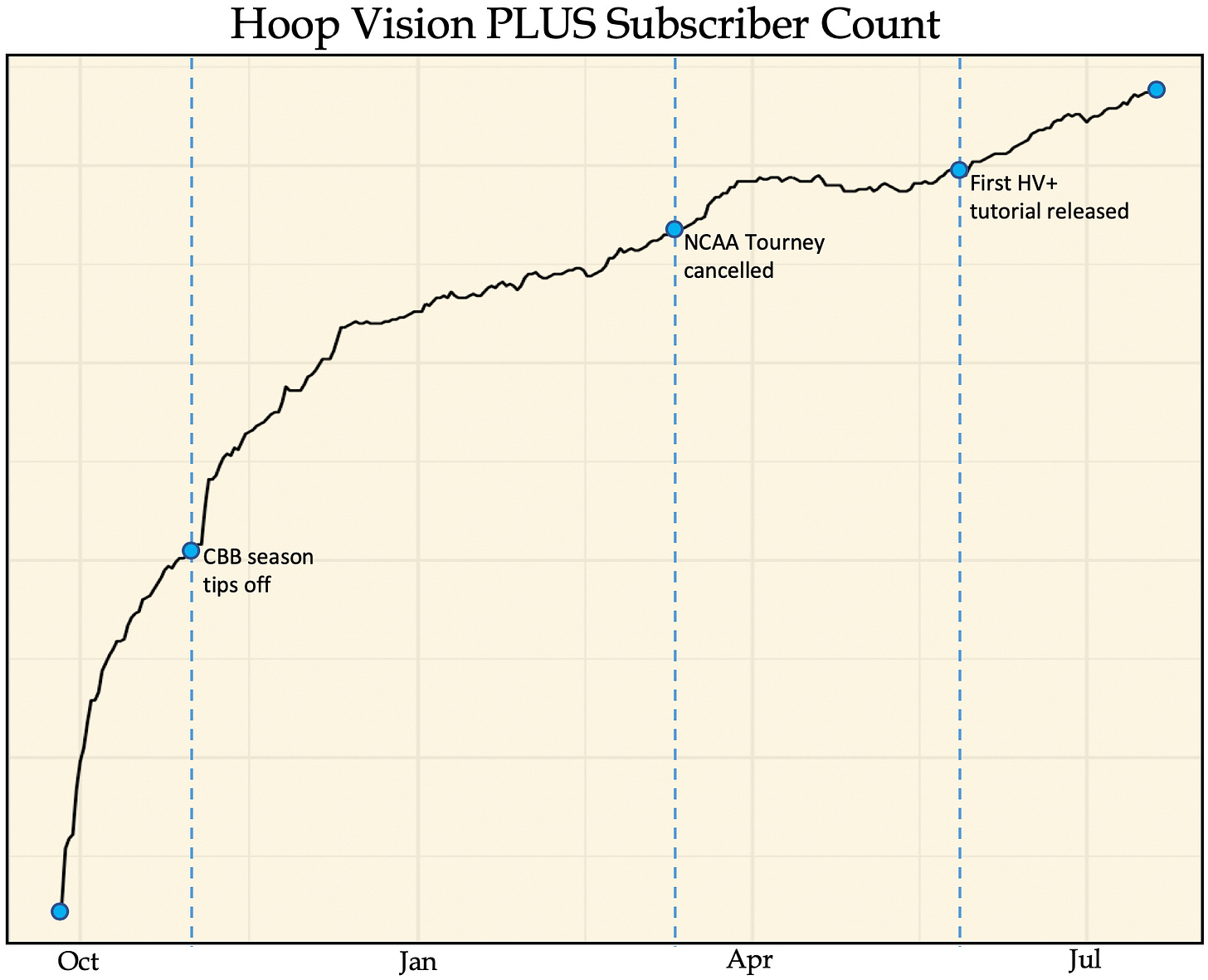 ---
How can you help?
For me, keeping a tone focused on the value of subscriptions has been an important aspect of Hoop Vision Plus. While many independent creators push an angle that subscriptions are "support" and that paying for their product is the right thing to do, I have tried to shy away from a "charity" tone.
A lot of time and energy has been spent to ensure HV+ members receive a tangible product; we're not simply asking for support to justify a hobby. It's a value exchange in the truest sense. HV+ members have exclusive access to:
The Starting Five: Weekly articles I write every Monday during the college basketball season highlighting five tactics, trends, or zany events from the weekend that was.

An assortment of long-form research reports. Two quick examples that made waves:

44 individual team breakdowns from the 2019-20 NCAA Tournament (originally intended to be in our tournament ebook)

Expert-led tutorials and presentations on video breakdown, scouting, and how to incorporate analytics in coaching

Considerable discounts on Hoop Vision digital and physical products, including in-depth breakdowns of coaching tactics and our budding merchandise offerings
Currently, we convert about 10% of our free newsletter sign-ups into paid Hoop Vision PLUS subscribers, which puts us right in line with the Substack average.
Fortunately, HV+ has been resilient to the current world without sports. While other sports media outlets are dependent on games being played, our coaching-heavy and analytics-obsessed audience has a different set of consumer values than you may expect from a typical fan.
On average, the recent tutorials have been bringing in about 7-10 new subscribers per week in the past month.
Here's the real stuff.
Let's be clear: Hoop Vision isn't in danger of shutting down at all, and I don't want to paint a worse situation than reality.
But for the long-term sustainability of Hoop Vision, we need to increase our free-to-paid conversion rate from 10% to 15%.
By subscribing to HV+, you are — first and foremost — receiving the subscriber-only benefits listed above, but also empowering us to continue producing everything else: The tweets, the podcasts, the videos, and this newsletter.
———
Here are four ways to support Hoop Vision:
[1] If you are a regular consumer of free Hoop Vision newsletters, tweets, or videos…
[2] If you are a monthly subscriber to Hoop Vision Plus…
Consider upgrading to an annual subscription. This will save you $20/year, but also allow us to plan ahead with more financial certainty and room to invest in game-changing products and ideas to continue serving the community that supports us.
[3] If you are an annual subscriber to Hoop Vision Plus…
[4] If you are a member of a coaching staff…
To sweeten the deal, we'll send a Hoop Vision Dri-Fit T-shirt if you choose to support in any of the four ways listed above in the next week. Send us an email (hoopvision68@gmail.com) with your size.