A new season, with big Hoop Vision news
A fresh look for HV, and the launch of Hoop Vision PLUS
Welcome back to the Hoop Vision Weekly.
Some news: we're back to our normal in-season schedule, sending out on Fridays.
If you don't follow @hoopvision68 on Twitter, you may have missed yesterday's other big announcements — or perhaps they may have gotten sandwiched in between some big international headlines dominating feeds. Or maybe you aren't even on Twitter these days…well done!
So not only are we BACK on Fridays (with a new logo!), but we are also quite excited to announce a new premium subscription product called…
wait for it….
HOOP VISION PLUS.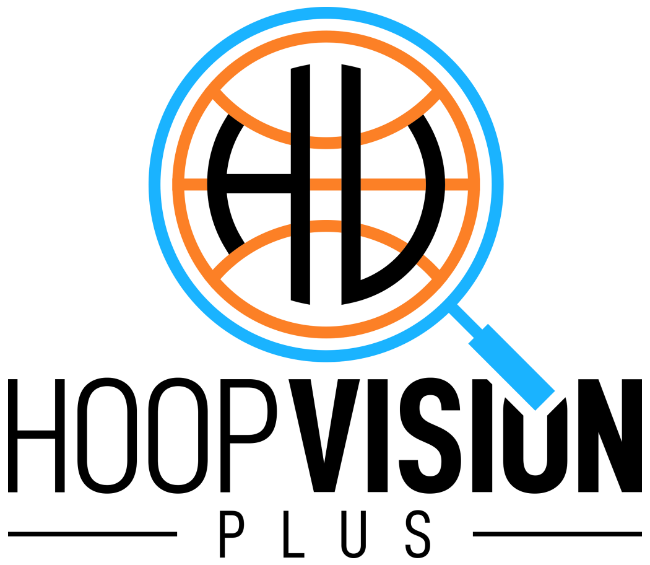 What it lacks in name originality, HV+ — as we'll be calling it, for short — will more than make up for in quality, creativity and a commitment to producing substantive, smart coverage throughout the season.
As such, today's HV Weekly will aim to shed a little bit more light on what HV+ actually is, along with a look at next week's HV+ calendar as we approach the season.
IMPORTANT to note: rest assured, this Friday flagship newsletter will remain free and continue to be sent out weekly.
HV+ is an additive service which will house the best of Hoop Vision, delivering new content experiences with expanded thoughts on the biggest games and trends AND the esoteric details which you've come to expect from Hoop Vision.
Admittedly, this week's edition is fairly promotional, but we promise we'll be back to the normal cadence and tone next week as the season quickly approaches and we're within a month until actual tip-off.
---
If you already saw yesterday's announcement — or you don't feel like reading a whole breakdown of what will be included with an HV+ membership, but you're ready to subscribe — this magic button right here will do the trick:
If you're skeptical, we'd love a chance to tell you more in this space. And if you feel compelled, please respond to this email with any specific questions or feedback.
(For those who have already subscribed to HV+ — thank you! Keep reading for a look at next week's content calendar.)
---
What to expect as an HV+ subscriber
We wanted to share with you a bit more on the specifics of what HV+ subscribers will be receiving. As mentioned above, this Friday newsletter will remain free for everyone, while original HV+ articles (and exclusive podcast content + video) will be made available to paid HV+ subscribers (monthly or annual).
Those premium articles will feature in-depth breakdowns combining both data and film in the way you are used to seeing from Hoop Vision. These fixtures aim to uncover the game within the game, along with providing insight into the macro trends and forces influencing the way the college game is played and coached.
A subscription to Hoop Vision Plus costs $10 per month or $100 annually (e.g. two free months for annual subscribers!) and supports independent college basketball coverage which does not rely on advertising or athletic department subsidies.
To get more detailed, here is next week's calendar for HV+ content:
Monday (September 30) — Virginia Offense
Tony Bennett's decision to add Continuity Ball Screen to his playbook last season was well-documented in our coverage last season (to say the least). On Monday, we'll take a look at what offense is best suited for Virginia's new personnel — after graduating Jerome, Guy, and Hunter.
Tuesday (October 1) — Coaching Analytics
Last season we tweeted out an idea of way to potentially quantify coaching performance; Chris Beard and Tony Bennett both stood out. On Tuesday, we'll explore the idea further while testing if it actually is a predictor of future coaching success.
Wednesday (October 2) — Texas Tech Defense (Part 1)
One of the most common questions we got from coaches around the country last year was something along the lines of…
How the heck do we figure out the best way to attack Texas Tech's 'no-middle' defense?
To answer that question, we did some unique defensive charting of Texas Tech's three-point defense.
Thursday (October 3) — Texas Tech Defense (Part 2)
In part two, we will take a more macro-level approach to Texas Tech's defense. Should more teams be emulating Chris Beard's defensive style? We'll answer that on Thursday.
Friday (October 4) — Right back here! Hoop Vision Weekly.
WEEKEND BONUS: Early HV+ supporters (those who subscribed yesterday, or between now and next Friday) will receive a behind-the-scenes look at how the first week went + what we learned, along with some exclusive insider chatter heading into the season.
Below: a sneak peek at the Virginia Offense preview/breakdown: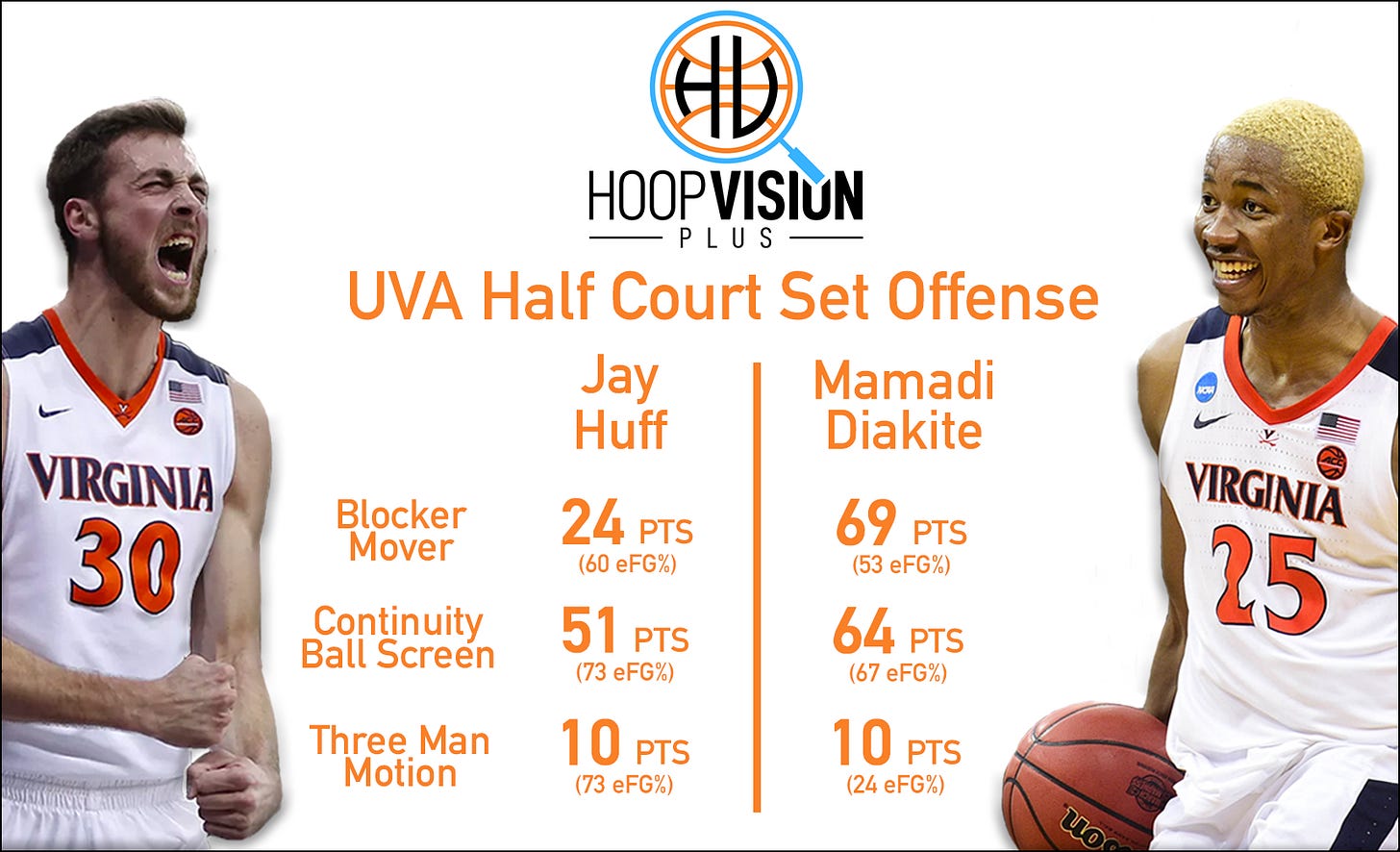 ---
Thanks to all who lent their support — financially and vocally — around yesterday's launch announcement. A sampling of some wonderful, supportive tweets surrounding HV+ and the Hoop Vision operation as a whole:
Shouts to NBC Sports' Rob Dauster for his continued support of Hoop Vision.
(Fun fact: When he's not writing, Rob is one of the most prolific men's league hoopers on the East Coast)
From former Gonzaga guard (now Baylor grad assistant) Rem Bakamus — thanks Rem!
From D3 national title-winning coach Casey McGraw:
Meaningful words from an "inanimate object" named CBB Today:
A highly appreciated HV+ Supporter, Erik's Twitter bio is "I make bad tweets" (yes, it is) — but we're glad he made an exception to send out this remarkably GOOD tweet:
From past Hoop Vision Weekly contributor Kevin Sweeney, who was one of the first sounding boards for HV+ and has built a meaningful independent voice and platform of his own over the past year-plus…thanks KS!
And from Jerod at Assembly Hall, who brings leading Indiana Hoosiers coverage and has been helpful, kind and wise in helping us launch and build Hoop Vision…thanks Jerod!
---
New season, new look, new product.
Same commitment to quality and consistency.
Welcome to Hoop Vision Plus.