Breakout Players + NET + X's and O's (HV Weekly: 12/20/2019)
Celebrating one year of the Hoop Vision Weekly.
Hi all — it's Friday. Welcome back to the Hoop Vision Weekly.
We're glad you're here; this edition marks one full year of the Hoop Vision Weekly. We sent out the first edition on December 21st a year ago (here's Vol 1, in all its glory), and we have sent out a Weekly every single week since — aside from one week off in mid-April.
We sleep in mid-April.
Plenty to get to this week, as the slate is relatively strong for the post-exam / pre-holiday break period and we are nearing the end of non-conference schedules.
Before we jump in fully, here's your friendly reminder that the Hoop Vision Store is now open, and we offer GIFT SUBSCRIPTIONS to Hoop Vision Plus. Between the digital e-books/videos in the Hoop Vision store or a gift subscription to HV+, this is your chance to get a gift for a basketball nerd in your life without worrying about shipping or mall parking lots.
———
(P.S. — If you're a head coach, you can't go wrong with giving Hoop Vision as a gift for your student managers or GAs).
———
In this edition:
Looking ahead at the weekend: what to watch out for in our favorite game + a quick look at the slate as a whole.

Breakout Players & Role Reversals: Which players have taken on more of the offensive load this year, and which have gotten some help from a talent infusion or new system?

Weekly Roundup: What you may have missed from the Hoop Vision universe this week.
---
LOOKING AHEAD
(*Reminder: Team rankings and score projections via KenPom.com)
21 games between teams ranked in the KenPom Top 100

11 games between teams in Top 68

5 games between Top 48 teams

3 games between Top 32

2 games between Top 16
Game To Watch
#4 Kansas at #19 Villanova




Saturday 12pm ET (FOX)
When Villanova has the ball on Saturday, it will feature two of the more extreme coaching styles at the high-major level. Under Jay Wright, Villanova has sustained success by shooting a high volume of three-pointers; they are actually at a relatively lower volume this season, but still are taking 43% of their shots from behind the arc.
On the other hand, Bill Self's defenses have consistently been indifferent when it comes to limiting three-point attempts. For the Jayhawks this season, 48% of opponents' shots have been from behind the arc — and we still find them as the #6 ranked defense in the country in AdjD thus far.
In last year's matchup, Kansas was forced to switch ball screens in the second half against Villanova's spread ball screen attack. The adjustment helped guide Kansas to a 74-71 win in Allen Fieldhouse.
This season, Kansas has a new primary ball screen coverage: Ice.
In theory, keeping the ball on one side of the floor should reduce rotations — and therefore reduce three-point attempts. Kansas's defensive statistics haven't supported that theory, but it gives them a different look against Villanova's well-spaced offense.
Film Room: Why Everybody is ICING Ball Screens this Season
——
The other fun ones
Highest-ranked matchups…
HM vs. HM: Purdue (#9) vs. Butler (#10)
HM vs. MM: Utah State (#52) vs. Florida (#23) — in Sunrise, Fla.
MM/LM vs. MM/LM: Saint Mary's (#26) vs. Nevada (#93) — in San Francisco, Calif.
Biggest Projected Blowout…
Penn State 89, Central Connecticut State 54
Projected Highest-Scoring Game…
New Mexico 98, Houston Baptist 76
Projected Lowest-Scoring Game(s)…
Virginia 63, South Carolina 51
---
Weekly Spotlight — Breakout Players & Role Reversals
There are two different types of breakout players. First, you have players that simply were waiting their turn. Consider Gonzaga center Filip Petrusev. He was sitting on the bench last season behind NBA first round picks in Rui Hachimura and Brandon Clarke. He showed some signs, but ultimately only averaged 11 minutes per game.
The other type of breakout player is a bit more interesting. These players played big minutes last season, but their roles have been increased this season.
To measure role increase, we can use usage rate — the percentage of possessions an individual is personally responsible for ending when he is on the court. The table below lists the top 10 jumps in usage rate from this season to last season.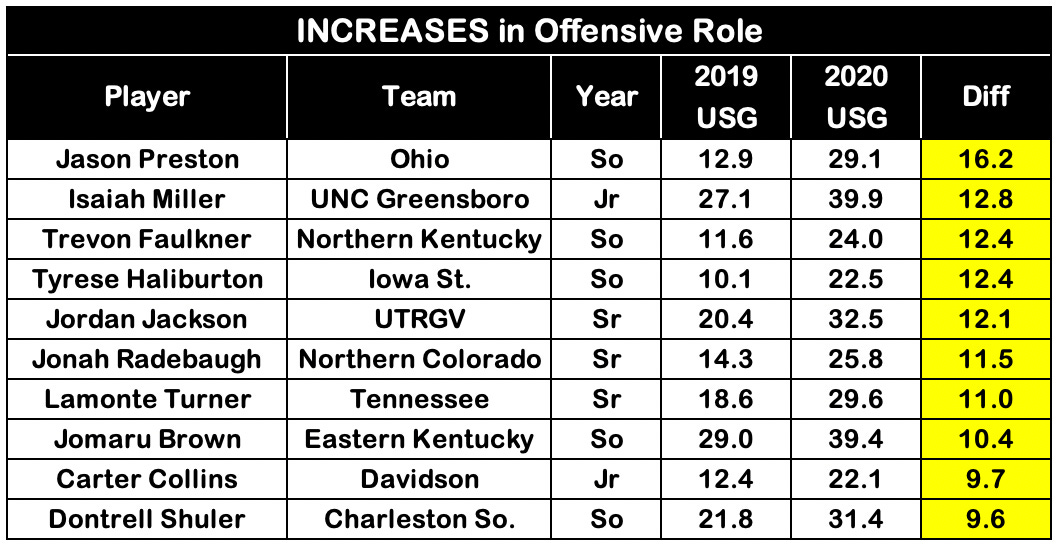 Ohio's Jason Preston has had an enormous increase in role under new head coach Jeff Boals. Not only has his usage rate increased, but he's also eighth in the country in assist rate. Boals has put Preston in ball screens early and often this season — 57% of his offense is being created via the ball screen.

UNCG's Isaiah Miller has gone from a major contributor in 2018-19 to the second highest usage player in the country in 2019-20. The graduation of star guard Francis Alonso is a big reason for that increase. UNCG runs aesthetically pleasing action, but they have struggled to find shooting (or a secondary creator) from their roster this season. It's placed a lot of burden on Miller to generate offense.

Iowa State's Tyrese Haliburton was dead last in the entire NCAA in usage rate last season among players who played in at least half of their team's minutes. So this season he really had nowhere to go but up. The projected first-round NBA draft pick has had an efficient start to the season even while taking on that larger role.

Tennessee's Lamonte Turner started the last 19 games of the season in 2018-19 and showed an ability to score the basketball. With the losses of Grant Williams, Admiral Schofield, Jordan Bone, and Kyle Alexander, it's not a surprise that Turner has filled the offensive creation void. The problem for the Vols has been Turner's efficiency. He is shooting just 33% from two and 23% from three in his new role.
Seven out of the 10 teams with representatives on the list above rank worse in offensive efficiency this season relative to last season. So in many cases, these players have appeared to increase their role in large part due to necessity.
On the other side of the coin, we have players that have decreased in usage this season. That table is below.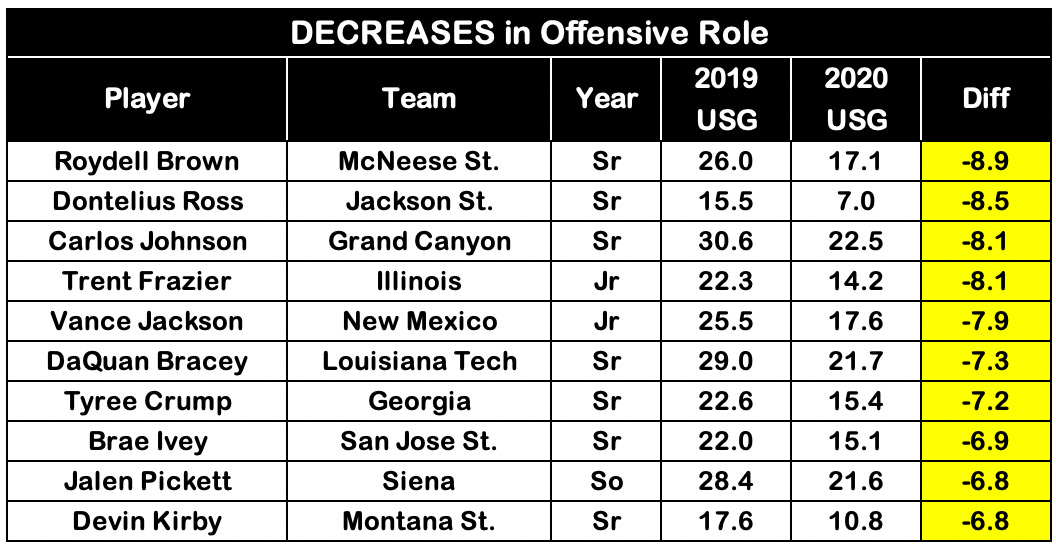 The two high-major players on the list, Trent Frazier and Tyree Crump both had impact freshman recruits (Kofi Cockburn and Anthony Edwards, respectively) join their teams.
Siena'a Jalen Pickett is a particularly interesting case, because of how unique his role was last season as the most blitzed player in the country. With Siena's coaching change in the off-season, Pickett's usage rate and assist rate have declined pretty dramatically under Carm Maciariello — but the team's overall offensive efficiency has improved.
In total, eight out of the 10 teams with representatives on this list rank better in offensive efficiency this season relative to last season.
The results seem fairly intuitive here. When a player takes a dramatic jump in usage, there's a good chance it's a sign that a lot of offensive talent departed from the previous season. When a player takes a dramatic dive in usage, there's a good chance that a talented offensive player (or two, or three) was recruited in the offseason.
---
LOOKING BACK
THE STUFF YOU MISSED WHILE READING HOLIDAY GIFT GUIDES
The NET rankings were released Monday, and while this year's initial rankings — which came out nearly a month later than last year's — didn't cause the firestorm they did a year ago, the NET system itself is still shrouded in secrecy and continues to generate unrest within fanbases and coaching staffs.
With this year's initial release on Monday, we came perhaps as close as we'll ever come to producing a "hot take" — but the take actually isn't all that hot. The Quadrant System Must Go:
The underlying metric being used to form the quadrants is now better after the change from RPI to NET, but the problem is the quadrant system itself. And in all of the mayhem regarding the roll-out of NET last year, that's been lost in the national discussion.

For coaching staffs and schedule makers around the country, NET can't be manipulated like RPI — but the quadrants can be. A system where resumes are systematically being evaluated incorrectly allows savvy teams and conferences to schedule towards those errors.
Link to full post (unlocked to all Weekly readers).
And for Hoop Vision PLUS subscribers, a Tuesday edition of The Starting Five — in which we look at five actions, stories or thoughts from the weekend — which included a curious piece on winning without grabbing an offensive rebound:
In the specific case of NC State, they did have two deadball offensive rebounds awarded to their team as a whole — but no individual players were credited. Using Basketball-Reference's game finder, we can find 73 instances of that occurring since the 2011 season.

In those 73 games, the team that did not grab an offensive rebound went 34-39 (47%).

At first glance, that win percentage feels surprisingly high. But this is likely a matter of rebounding opportunity as much as anything.

The 73 teams combined to shoot 54% from two and 39% from three in those rebound-less games. More shots going in means less opportunities to grab offensive rebounds. Offensive rebounds are good, but just making the shot in the first place is even better.
View full post here (HV+ subscribers only)
In Podcast Land, we had two Big Game Pod episodes drop this week; the first was a breakdown of Gonzaga's win over Arizona (Apple // Spotify), and then yesterday focused on Saturday's neutral court showdown between Ohio State and Kentucky, plus a little sprinkle of Kansas-Villanova (Apple // Spotify).
(Jordan also made an appearance on the Hoos Place podcast to talk UVA Basketball heading into the new year and ACC play.)
As we move away from Podcast Land, there's increasing chatter that Gonzaga may well be the best team in the country this season; while we won't use this space to weigh in on that argument, we'll share this video breakdown on how they utilized Corey Kispert as a small-ball 4, and why it was so effective (2m20s)
Staying in the WCC — if you haven't had the pleasure of watching Jordan Ford play over the past few seasons (looking at you, east coasters!), be sure to change that ASAP:
X's and O's from the week:
---
THANK YOU SO MUCH.
If you're still reading down here, it means you really care — and that means a whole lot to us.
This weekly newsletter has grown SO much over the past year, certainly in terms of audience (788% subscriber growth), but also in terms of influence within the basketball community and in the ability to directly connect with fans, coaches, media members and enthusiasts who appreciate the nuance and substance within this amazing sport.
With the holiday season in full swing, we appreciate you joining us along for the ride over the past year. Here's to a great 365 days, and to more fun, learning and celebration together.
With gratitude,
Jordan Sperber & Edgar Walker