Holiday Hoops & Goodbye 2010s (HV Weekly 12/27/2019)
Previewing All-Decade Week on HV+
Welcome back to the Hoop Vision Weekly!
By virtue of the calendar, this is the final Hoop Vision Weekly of 2019.
It's been quite a year for this weekly email and all else that we've published under the Hoop Vision umbrella. We say it every week, but THANK YOU for your continued support of the Weekly, of Hoop Vision Plus and our e-book projects, and for being a part of the ever-growing community around it all.
(Check out HoopVisionHQ.com for our full collection of products and offerings.)
With a built-in holiday break for many programs, this was a light week for college basketball; and while that meant a bit less in-game and postgame coverage from Hoop Vision this week, we were scheming behind the scenes for a fun week ahead.
In this edition, you'll find a quick look at the upcoming (relatively light) weekend slate, then a preview of All-Decade Week on Hoop Vision Plus, then the typical roundup of the week from Hoop Vision HQ.
Here's to a great 2019 and what was hopefully a fulfilling holiday week for all of you out there. 
Let's go!
---
LOOKING AHEAD
(*Reminder: Team rankings and score projections via KenPom.com)
8 games between teams ranked in the KenPom Top 100

6 games between teams in Top 68

3 games between Top 48 teams

2 games between Top 32

1 game between Top 16
Game To Watch
#3 Louisville at #16 Kentucky




Saturday 3:45pm ET (CBS)
Kentucky enters Saturday's rivalry game on a two-game losing streak, but the Wildcats showed some promise against Ohio State. In particular, Nate Sestina's performance (5-for-8 from three) seemed especially important for a team with shooting issues.
Sestina's emergence as a pick-and-pop shooter gives Kentucky an opportunity to take advantage of Louisville's aggressive ball screen defense — which will likely be needed against the pack-line defense designed to take away driving opportunities for quick guards like Ashton Hagans and Tyrese Maxey.
On the other side of the ball, Louisville's offense is still a bit of an unknown, even 12 games into the season now. Chris Mack has switched to a more motion-based approach this year, after we saw a heavy ball screen approach last season. And while the new offense has been a success against weaker competition, the Cardinals really struggled offensively — even when adjusting for competition — against both Michigan and Texas Tech.
Kentucky's defense will give Louisville another opportunity to showcase their offense against a team with formidable size and athleticism. And while the Michigan and Texas Tech performances are reasonable cause for concern, it should be noted that Louisville shot a combined 7-for-36 from three in those two games.
Film Room: How Texas Tech's Deny & Switch Defense Upset Louisville
——
Some other fun ones
Highest-ranked matchups…
HM vs. HM: Louisville (#3) at Kentucky (#16)
HM vs. MM/LM: LSU (#44) at Liberty (#58)
MM/LM vs. MM/LM: Belmont (#90) at Western Kentucky (#93)
Biggest Projected Blowout…
Iowa 89, Kennesaw State 58
Projected Highest-Scoring Games…
Hofstra 83, James Madison 81
Wright State 87, Green Bay 77
Projected Lowest-Scoring Game(s)…
Virginia 57, Navy 39*
* These two teams have gone back-and-forth this season with appearances in the "lowest-scoring" section. It's only fitting they face off before heading into conference play.
---
Meanwhile,
beginning on Monday we'll be rolling out All-Decade week at Hoop Vision Plus.
HV+ subscribers will get to relive the top players, coaching trends, and actions from the past decade in the typical Hoop Vision way — with stats, graphs, and film. Here's the deal:
On Monday, we will take a look at the STATISTICAL TRENDS in style of play over the decade. What parts of the game have changed the most from 2010 to present?
On Tuesday, we will count down the TOP 10 COACHING ACTIONS of the decade. If you picked a season in the 2010s at random, what action, play, or concept would you be most likely to see regardless of year?
On Wednesday, it's all about WINNERS. We break down the dominant figures of the decade — those programs and coaches who sustained success and notoriety throughout the turbulent 2010s.
On Thursday, we look at the OUTLIERS AND ODDITIES of the decade. Players, coaches, and programs that stood out over the past 10 years and created some head-scratching results — for better or worse.
Today, for an early taste of All-Decade content, we present to you the top programs of the decade in adjusted efficiency margin from the 2009-10 season through 2018-19:
Duke (+27.1)

Kansas (+26.2)

Kentucky (+25.8)

Gonzaga (+23.6)

Michigan State (+23.2)

North Carolina (+23.0)

Louisville (+22.9)

Villanova (+22.9)

Wisconsin (+22.8)

Virginia (+22.2)
So there you have it, the
definitive
rankings of the past decade. I'm sure no one will possibly argue otherwise.
To take it one step further, we can compare adjusted efficiency at this point in the season to the program's decade-long average, to get the biggest surprises and best (relative) performances thus far.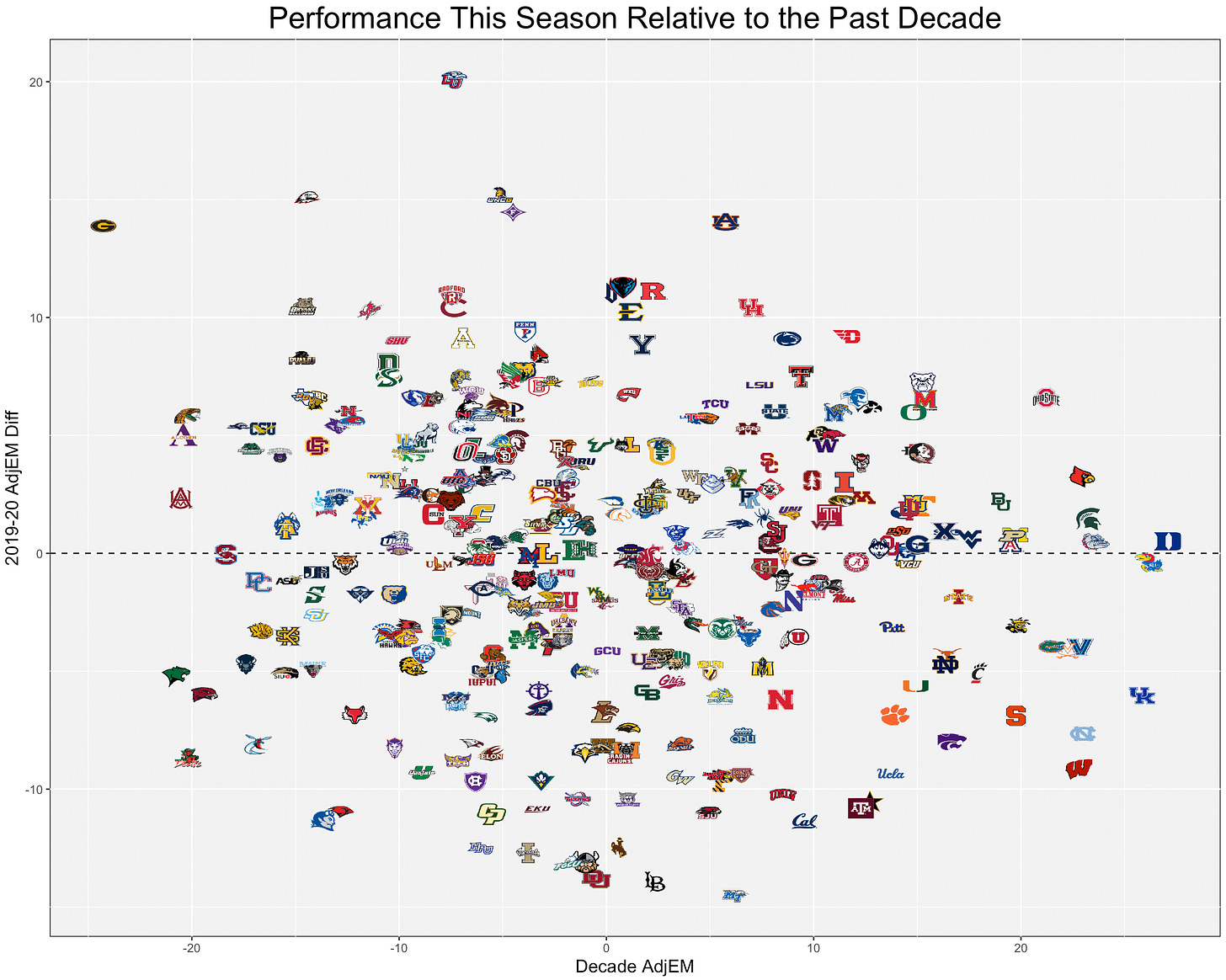 As you might have been able to see fairly quickly, there are six teams standing out among the rest for vastly exceeding their program standards this season: Liberty, UNCG, Southern Utah, Furman, Auburn, and Grambling State.
---
With All-Decade Week and then conference play arriving in full force at the turn of the new year, it's a great time to subscribe to Hoop Vision PLUS for full access to our premium content and exclusive analysis.
All subscribers receive discounts on Hoop Vision products, and Annual subscribers can redeem their HV+ annual pass for one FREE Hoop Vision digital product (e-book, video course, etc.)
---
LOOKING BACK
THE STUFF YOU MISSED WHILE WATCHING DISAPPOINTING BOWL GAMES
As was mentioned in the intro, it was a light week of games, which meant less in-game and postgame coverage than usual. But with a light week comes the opportunity to go a bit deeper on a few favorite topics.
First up: our Solving Basketball podcast returned, featuring a fantastic conversation with ESPN analyst and former D1 head coach Fran Fraschilla. In one of the more wide-ranging Solving Basketball episodes, we covered everything from the origin story of the Princeton offense to the best way to utilize a pass-first point guard on a high school team.
The main points of the conversation, however, went something like this:
The trends in X's and O's, coaching, and professional development relative to Fraschilla's coaching days

The value of analytics and their application to team building and evaluation ("Statistics accuse, analytics indict, video convicts.")

Preparation for games — now as a broadcaster, then as a coach — and how his background in coaching affects the way he covers and broadcasts the sport (and the backstory on his "TV Chart" below):
If you're looking for even more podcast listening — perhaps today is a travel day to/from home or your holiday destination — we also did a Big Game Pod postgame breakdown of Ohio State's win over Kentucky last weekend; useful listening in advance of the Wildcats' big matchup against Louisville. (Listen: Apple // Spotify)
Moving from audio to video now: last weekend's other marquee game was Villanova's tight home win over Kansas, as another AP No. 1 fell immediately after claiming the top spot in the poll. The two teams bring a contrast of styles when it comes to Villanova's eagerness to shoot three-pointers, and Kansas' willingness to let opponents shoot. Last Saturday's game was a fun one for college hoops nerds, so we went deep on Kansas' three-point defense against Villanova: the tactics coming into the game, and how it played out in Philadelphia:
Now moving from video to text (with some video), this week's edition of The Starting Five — in which we look at five actions, stories or thoughts from the weekend — featured a heavy dose of Kansas-Villanova, plus a few visualizations around prolific three-point offense and defense (including this excerpt below):
[Data Viz] Three-point offense

In last week's Hoop Vision Weekly, we previewed Villanova-Kansas by highlighting the differences between the two teams in three-point philosophy.

How do they stack up this season compared to the rest of the teams from high-major conferences? The graph below plots adjusted offensive efficiency on the x-axis and three-point volume (3PA/FGA) on the y-axis.

There are six teams above Villanova in three-point volume, but none of them have been super efficient this season.

Syracuse leading all high-majors in three-point volume is a bit of surprise. The shot selection for Jim Boeheim teams has varied pretty wildly in his career — some seasons they let it fly and some seasons not so much.
And to close out this week's roundup, a couple quick nuggets from Twitter this week for the X's and O's junkies:
---
That's it for this week!
Were you forwarded this email by a friend, colleague or coach? If you enjoyed it and would like to receive original research, insider access, and strategic analysis of college basketball on a regular basis, please tap/click the button below to either share this post, or the one above to subscribe to Hoop Vision Weekly and/or Hoop Vision Plus.