Should more defenses force baseline? (HV+)
How Texas Tech "reduces randomness" with their scheme
This is part two of a mini-series on Texas Tech's no-middle defense. Yesterday's part one — "How do you score against Texas Tech?" — can be found by

clicking/tapping here

.
Copycat coaching, revisited
About a month ago, we dove into the idea of "Copycat Coaching."
One of the examples used in that article was the Spurs. With all of the success for the Spurs over the years, coaches at every level are eager to duplicate Gregg Popovich's X's and O's, and we see motion strong, motion weak, and loop being adopted at lower levels of basketball:
Those three plays, while undeniably effective for the Spurs, are almost hilariously simple at face value. Motion strong is a stagger screen away. Motion weak is a screen-the-screener. Loop is three players screening for a baseline a runner.

The actions themselves are hardly special. It was the execution of those actions — player movement, ball movement, reading the defense, and unselfishness — that made the Spurs historically elite.
So it's not a matter of if other coaches will begin to force baseline like Texas Tech.
A coach can't win big at the highest level — particularly with such a unique style — and avoid imitation. But should coaches adopt the no-middle style?
In order to answer that question, it's important to understand the why behind Chris Beard's (and, as a reader pointed out yesterday, Mark Adams') scheme.
In this edition, we will:
Discuss the overall foundation of the no-middle defense: "reducing the randomness"

Show why Texas Tech's personnel was so good within the system last season

Explain two potential limitations of aggressively forcing baseline

Summarize what can be learned from Texas Tech
---
Reducing the randomness
The three-point revolution in basketball has shifted defensive philosophy at the highest levels of the sport.
In a world where the three-pointer isn't properly utilized by offenses, guarding the ball is the most important defensive quality. In a world where the three-pointer is properly being utilized by offenses, things get much trickier.
The conventional wisdom — particularly in the NBA — has shifted from guarding the ball at all costs toward staying out of rotations at all costs. Aggressive hedging ball screen coverages (which lead to rotations on the weakside) have turned into soft drop ball screen coverages.
Defenses naturally still want to provide help to the on-ball defender, but not at the risk of temporarily leaving shooters open; that's what makes the success of Texas Tech confusing. They temporarily leave shooters open frequently.
Let's revisit, Texas Tech's "help-drop-zone" rotations from yesterday.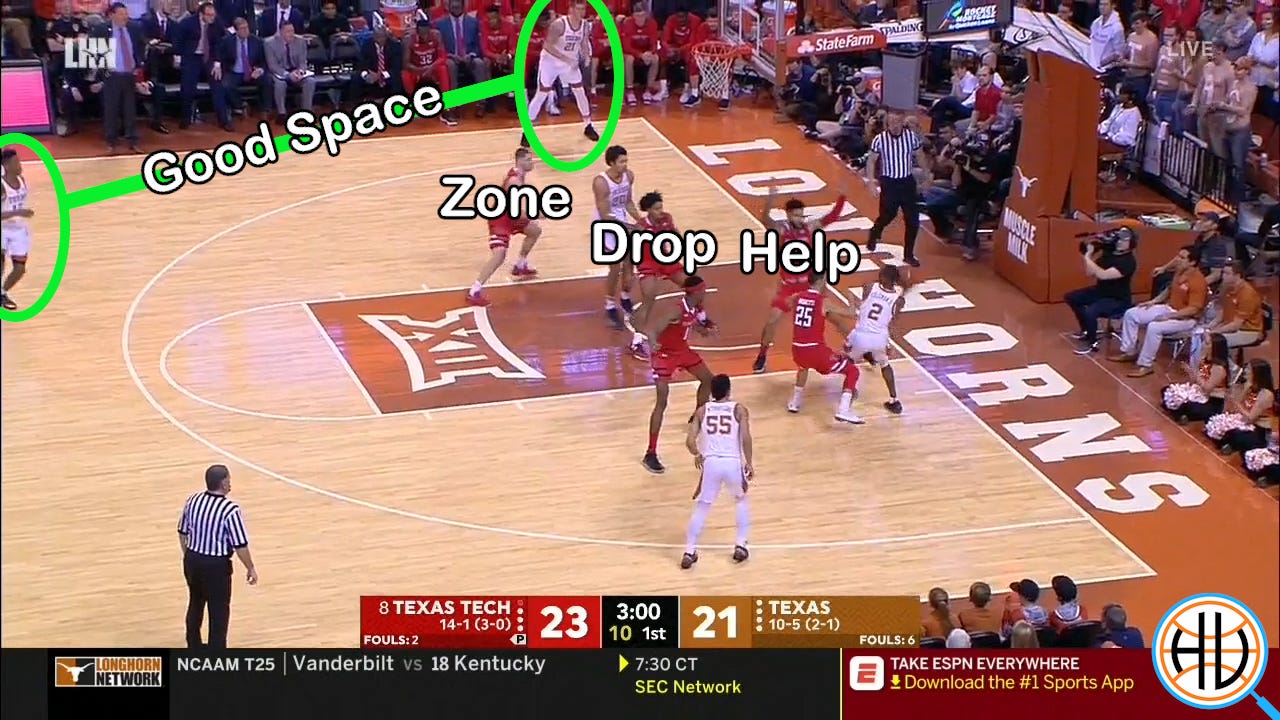 In the play above, (#13) Matt Mooney's job is to split the difference between the shooters on the weakside — essentially playing a zone. Mooney will take the first pass out and the rest of the defense will scramble back to rotate.
Some defenses will go to great lengths to try to prevent this form of rotation from ever happening. And yet Texas Tech has built a whole defense on it — literally inviting the rotation to occur.
Chris Beard's team has essentially taken the randomness out of rotations.
Rotations are difficult enough to execute on their own, but especially so if a defense doesn't know where or when the need to rotate is going to occur. By aggressively forcing the ball to the baseline, Texas Tech eliminates that element of surprise.
Yes, they are still temporarily leaving weakside shooters open. But reducing the randomness of the play increases the probability of rotating back to those shooters.
The no-middle component of Texas Tech's defense has received most of the love (I'm certainly guilty of that), but the switching component is equally as important. Switching — and taking away an offense's initial action — is another crucial way of reducing randomness. A typical Texas Tech defensive possession went something like this:
The offense runs some type of motion or ball screen action…Texas Tech switches

The offense spends 10 seconds with tunnel vision trying to post-up the mismatch from the switch…Texas Tech doesn't let the ball in

The offense is forced to drive baseline with less than 10 seconds on the shot clock…Texas Tech performs "help-drop-zone" rotation
The switching aligned perfectly with the force baseline and rotate style. Inevitably, Texas Tech would stall out ball screen and motion actions. And inevitably, opponents would be forced to drive baseline in late clock situations.
---
Why was Texas Tech so good at rotation execution?
Reducing the randomness of rotations certainly helped Texas Tech. But at the end of the day, they still had to execute the rotation.
We saw in yesterday's video how (seemingly) easy it can look — with proper spacing — to generate a catch-and-shoot three against the help-drop-zone rotation. So why was Texas Tech so good?
#1) Charges and deflections
It seems like it should be easy to drive baseline and kick out to a shooter, but it's just not. Not only did Texas Tech have plenty of length and athleticism, but they have consistently been at the top of the country in taking charges.
#2) Multiple efforts — and IQ
Please just watch Matt Mooney (#13) in this clip.
He goes from "first helper", to scrambling for a rotation, to "dropper" — all in about three seconds.
#3) You better be able to shoot
You are going to get some weakside threes off skip passes against Texas Tech. If for no other reason than the Red Raiders will take everything else away.
College basketball isn't the NBA. If you keep forcing an offense to make the "one-more" pass, there's a good chance it's eventually going to land in the hands of a poor shooter.
#4) Chris Beard gets to make adjustments too
Yesterday we talked about adjustments an offense could make to counter the no-middle defense. But remember, Chris Beard gets to make adjustments too.
Last season, Texas Tech would open possessions in zone as a changeup defense, and would even occasionally run-and-jump for turnovers.
---
Weaknesses of the scheme
I mentioned yesterday that the scheme is not exactly magic. And let's be clear, Texas Tech had elite defensive players last season. Regardless of execution, the rotations are a lot easier with players that gifted.
#1) You are going to give up threes
When you rotate as much as Texas Tech, there's really no way around it. Chris Beard defenses have ranked well below average in three-point volume all four seasons of his D1 head coaching career.
2016 Arkansas Little Rock: #315 in 3PA%

2017 Texas Tech: #327 in 3PA%

2018 Texas Tech: #214 in 3PA%

2019 Texas Tech: #240 in 3PA%
As Hoop Vision readers might remember, you can still be an elite defense while giving up a high volume of threes. Texas Tech proves that better than anyone. But if you would prefer taking away the three to be a core defensive principle, the extreme no-middle system is likely not the best option.
#2) It's hard to be personnel or situational based
Reducing the randomness of rotations has its benefits, but it also has one particular weakness. Because Texas Tech's off-ball help is so structured, it doesn't allow for much flexibility.
There was a great example of this on the famous Ty Jerome drive-and-kick three to send the national championship game into overtime. The video below walks you through that play (with voiceover narration!) and explains why it's hard for Texas Tech to be personnel based.
---
So should you force baseline?
You may have noticed by now that I haven't really answered the initial question. So should more defenses force baseline?
My answer would be something along the lines of:
If you do it, you better be committed to it.
A lot of teams talk about keeping the ball out of the middle, but Texas Tech demands it. By going so far to one end of the spectrum, they have created a scheme that certainly could be duplicated — but should used with caution.
If a team was to imitate the no-middle style, I would strongly suggest experimenting with the switching component as well. Ultimately, it's about understanding the strengths and weaknesses of both the scheme that you are implementing and the players you are coaching.