Hoop Vision Weekly (10/25/2019)
Elite shot selection, good memories for UVA fans, and more basketball puns than you could ever need
Happy Friday!
We are 11 days away from the beginning of the college basketball season.
Whether you're a mover or a blocker, a high-volume scorer or a low-post defender, we're glad to have you on the team for another edition of the Hoop Vision Weekly.
If this is your first time getting this email — welcome. It's not every week that this intro includes puns that convert at all three levels, but when it does, we try to really screen for the best, and roll with the winners.
If you've been with us since the start of the Weekly (nearly a year now, with only one week off!), your continued support is 100% noted and ALWAYS appreciated.
To closeout this opening section, a weekly reminder that the Hoop Vision Weekly is supported by subscribers to Hoop Vision PLUS, our new, premium content product featuring deep dives on the teams, trends and curiosities driving this beautiful sport of ours.
Subscribe today for full access; the 2019-20 season is shaping up to be a great one, and HV+ helps you watch smarter.
In today's edition of the Hoop Vision Weekly, we celebrate a new episode of the Solving Basketball podcast by going deep on the conversation and baking out the key concepts discussed.
We also take a brief look back at the week that was on HV+ and some weekend reading from the Hoop Vision archives, tiding us over a few more days as we inch achingly close to the season tip-off.
---
Deep Dive: The Determinants of Shot Selection
(feat. Quinnipiac and head coach Baker Dunleavy)
Yesterday, we released Episode 29 of Solving Basketball, featuring Quinnipiac head coach Baker Dunleavy.
Listen to the episode by clicking/tapping here: (iTunes // YouTube)
The discussion primarily revolved around the Hoop Vision Plus post "Why the best teams don't take the best shots" — an article in which we developed a metric to quantify a team's shot selection. Dunleavy's Quinnipiac squad ranked 4th in the country last season in the metric — with 88% of halfcourt shots coming from three or at the rim.
The in-game decision making process by a basketball coach differs greatly from that in sports like football or baseball. In football, the decision to run or pass is made prior to the snap. In baseball, the decision to bunt or steal is made pre-pitch.
In basketball, a coach doesn't simply decide the shot type pre-possession, as the shot type is ultimately a function of many different factors. For yesterday's podcast, we took what are — in my opinion — the three most important determinants of shot selection, and explored the different ways Quinnipiac approaches them.
The players/personnel on the floor

The scheme (spacing and action) being run by those players

The overall philosophy and communication of shot selection to those players
#1) Personnel
Quinnipiac was led by senior Cameron Young last season. Dunleavy talked about Young's development from a high-volume scorer into both a high-volume and high-efficiency scorer. He also discussed Young's ability to avoid mid-range jumpers in isolation situations by getting behind the three-point line — à la James Harden.
Quinnipiac stretch 4-man Jacob Rigoni was the other player discussed. The Bobcats would use his sharpshooting in the trail spot for this type of dribble handoff or dribble pitch action out of the secondary break.
And here's an instance of Young faking the dribble handoff to Rigoni and driving to the basket instead.
#2) Scheme
Before taking the Quinnipiac job, Dunleavy was associate head coach at Villanova under Jay Wright. He compared and contrasted the current Quinnipiac offensive scheme to Villanova's.
One concept we discussed was what Dunleavy calls a "peel". Here you can see that Rigoni performs the action by acting as if he is going to set a ball screen before peeling off to the three-point line instead.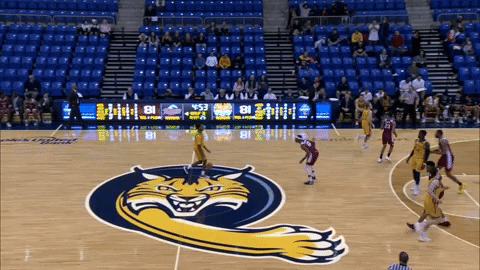 Notice how Quinnipiac "wedges" into the peel action by screening for Rigoni's man beforehand.
The most notable aspect of Quinnipiac's scheme is the way in which they maximize perimeter spacing; instead of using random cutting and screening action, Dunleavy's team often prioritizes weakside spacing.
Placing great shooters in the right spots is a difficult task for defenses to handle. The play below is a very simple Horns set — and yet, note how wide open the paint is on the drive.
Young's gravity in the strong side corner (he's essentially being face-guarded) prevents the one-pass away defender from providing any help or stunt. In turn, the lowest defender — who should be the helper — is faced with a similar predicament thanks to Quinnipiac's three-point shooting ability.
#3) Philosophy
Dunleavy had a particularly poignant quote about communicating shot selection and analytics with players:
"We don't tell our guys not to take mid-range shots, we just encourage the other options at a high level."
That idea of "affirmative coaching" is particularly relevant in light of Kevin Durant's recent Twitter argument about the mid-range jumper. Dunleavy's thoughts and experience on the topic are well worth a listen.
---
This week on Hoop Vision PLUS
It was a bit of a different week on HV+ with the official release of the KenPom.com preseason rankings, paving the way for a Monday "special" which we opened up to ALL Hoop Vision Weekly subscribers — giving all a little taste of HV+ around a topic (preseason rankings) which is usually outside the Hoop Vision domain.
On Wednesday, it was back to business as usual, with an in-depth look at the impact of having "non-shooters" on the floor, and occupying key roles on the team.
A few excerpts from the week below…
On the "new role" for Duke floor general Tre Jones as he returns for his second year in Durham…
Tre Jones did run the point for Duke last season, but RJ Barrett and Zion Williamson were the clear offensive creators.

With another freshman-oriented team this year, roles will be defined as the season progresses. But Coach K has consistently stated that Jones will have the ball in his hands.

In most cases, players don't become more efficient when taking a higher usage role — there's an implicit trade-off between usage and efficiency. But with Jones' skillset, being moved on to the ball could potentially be a better fit.

Jones (narrowly) led Duke in assist rate last season, assisting on 24% of teammate baskets when he was on the floor. That number is very likely to increase this season as he is put into more ball screen and playmaking situations.

How important is it for a team's assist leader to be a three-point threat?

To look at this question, we identified every team's leader in assist rate and then plotted their three-point attempts and three-point percentage…
On KenPom's preseason projections, and the teams projected to make remarkable jumps in efficiency from their final marks in prior season…
We now have an eight-season sample size for the KenPom preseason projections.

Score one for Ken's preseason rankings. ALL the teams projected to make the biggest jumps in efficiency year-over-year (listed in full article — click/tap link above) finished closer to their preseason projected AdjEff than to their previous season's AdjEff.

If we filter for just high-major conferences, we have the following teams projected to take the biggest steps forward this season.

Arizona (+7.3 —> +17.9)

Wake Forest (-0.9 —> +8.7)

Georgia (+4.1 —> +13.4)

Xavier (+10.6 —> +19.2)

Illinois (+8.1 —> +16.5)

Sean Miller and Arizona lead the way among the high-majors. The Wildcats bring in star freshmen Nico Mannion (RSCI #6) and Josh Green (RSCI #13) — in addition to two D1 transfers Stone Gettings (Cornell) and Max Hazzard (UC Irvine).

Combine that recruiting class with a strong historical track record for Sean Miller, and Arizona is Ken's top ranked Pac-12 team.
Want more deep insight on college basketball delivered directly to your inbox? Subscribe to Hoop Vision Plus for exclusive writing, video, and audio on the game within the game:
---
Driving north-and-south down Memory Lane
It's been a busy week behind the scenes at Hoop Vision HQ as we're truly gearing up for the season and doing some travel. As such, it was a great time to reflect on some past hits and misses from the Hoop Vision Weekly — and the original Hoop Vision Coaching Newsletter.
If this feature (looking back at big moments from last season or previously-visited concepts) generates any interest, maybe we'll make this a recurring feature in the Weekly. For now, it's just a little bonus reading if you're stuck in rough weather this weekend, need something to fill time on your way to the pumpkin patch, or you find your favorite NFL or college football team on a bye week.
And hey - nostalgia's always fun in small doses, right?
Three from the archives…
Note: Click/tap the bolded links to view the full post.
(July 31st, 2017)
"Coaching & Analytics: Lineup Data (Newsletter #3)"
Now more than two years old, this post could use a data refresher (and a fresher look and feel) — but the concepts and questions remain relevant as ever. This was from the early days of Hoop Vision, when this newsletter was not on a recurring schedule whatsoever (like, basically sent out once per year) and was exclusively written with college coaches in mind.
Even for teams that use their bench in a more robust manner, sample size is extremely small in the NCAA. Advanced NBA models — which account for contextual factors like opponent strength — often use multiple years of data in order to make predictions based off of lineup data. That type of sample size doesn't exist at the college level.

To illustrate the limits of lineup data, I used HoopLens.com to compare data from the first half of Big East play to the second half. For this (admittedly crude) study, I went player-by-player in the Big East to see how his team performed offensively with him on the court in the first nine games of conference play. I accounted for team strength by comparing the player's performance to the team's average performance. I then did the same exact thing for the second nine games of conference play.

The question I'm looking to answer here is, "If a team was especially efficient with a certain player on the court during the first half of conference play, did that trend continue in the second half?" The answer is no.
(April 11th, 2019)
"It's all over! National Championship Recap"
In the 6+ months since Virginia captured the national title, a few things have happened: this newsletter audience has grown quite a bit, AND a substantial chunk of that new audience is made up of Virginia fans. As such, we link back to this (quite comprehensive) breakdown of UVA's run to a title and the data behind some cliches which swirled around last year's Hoos.
One of the most comprehensive Hoop Vision longform videos of the entire season, below is a 21-minute complete breakdown on our most-covered team of the season.

Grab your popcorn and your whiteboard and enjoy a deep dive on one of the most impressive, consistent seasons in college basketball history (click/tap here or link above for the full video)
(Sept 1st, 2019)
"It's a copycat industry…"
Ironically, the post detailing how college basketball coaches have chronic copycat syndrome set — and at time of this writing, continues to hold — the record as the most-viewed Hoop Vision Weekly newsletter/post. Go figure.
Ball screen creativity should only continue to rise next season and moving forward; Villanova's run of two national titles in three years certainly did a lot for the spread and three-point heavy style of offense.

And finally, I would not be surprised — for better or for worse — to see Chris Beard's big success with no-middle defense have some influence around the country. Other teams teach keeping the ball out of the middle, but Texas Tech's extreme commitment to doing so is currently unparalleled.
---
That's it for this week!
Were you forwarded this email by a friend, colleague or coach? If you enjoyed it and would like to receive original research, insider access, and strategic analysis of college basketball on a regular basis, please tap/click the buttons below to either share this post, or subscribe to Hoop Vision Weekly and/or Hoop Vision Plus.